Kaminsknator: thanks. yes i always shoot outside the garage with the garage closed. i also have a carport that i kinda use as a booth.
dliverance : i dont mind the the 2 tone haha but i just find painting it will give me more practice. trial and error kinda thing. (1.8L BTW
)
so today i was fixing the imperfection on my hood. kinda said hell with it. i was eager to paint just the bumper. so i wet sanded the bumper down with 400grits and i tell you, the G2 primer is some really thick stuff. none the less i got it all masked up and prepped for paint. i laid down 4 coats of base and 3 coats of clear.
i had it drying in the sun near my car, at this point i notice the paint was somewhat lighter than my car. i spent the extra money to buy Valspar brand over omni because its not a transparent paint which would require more coats. im pretty stumped. what i did notice was the Blue painters tape on the grill i taped up with the base and clear on that, it seemed to match up quite a bit more than the bumper itself. now thinking to myself if i want my hood to come out closer in color to the car, i need to seal my hood with a darker color or red sealer all together. because i now know the color can match, it just comes down to the undercoat to determine what the final color on will be. that was mistake 1.
mistake 2, my stupid paint gun air knob rubbing on my wrist and increasing air pressure from 25-30psi to 45+ and had cause some orange peel on my clear. not too worried about it because i could always cut and buff it out. but i had wished it didnt happen because it would be a less of a headache in the end. i need to buy a new regulator anyways because this one doesnt lock. it would just spin freely increasing and decreasing air pressure.
the bumper will have all its black trims redone as soon as its all dried up, cut and buffed.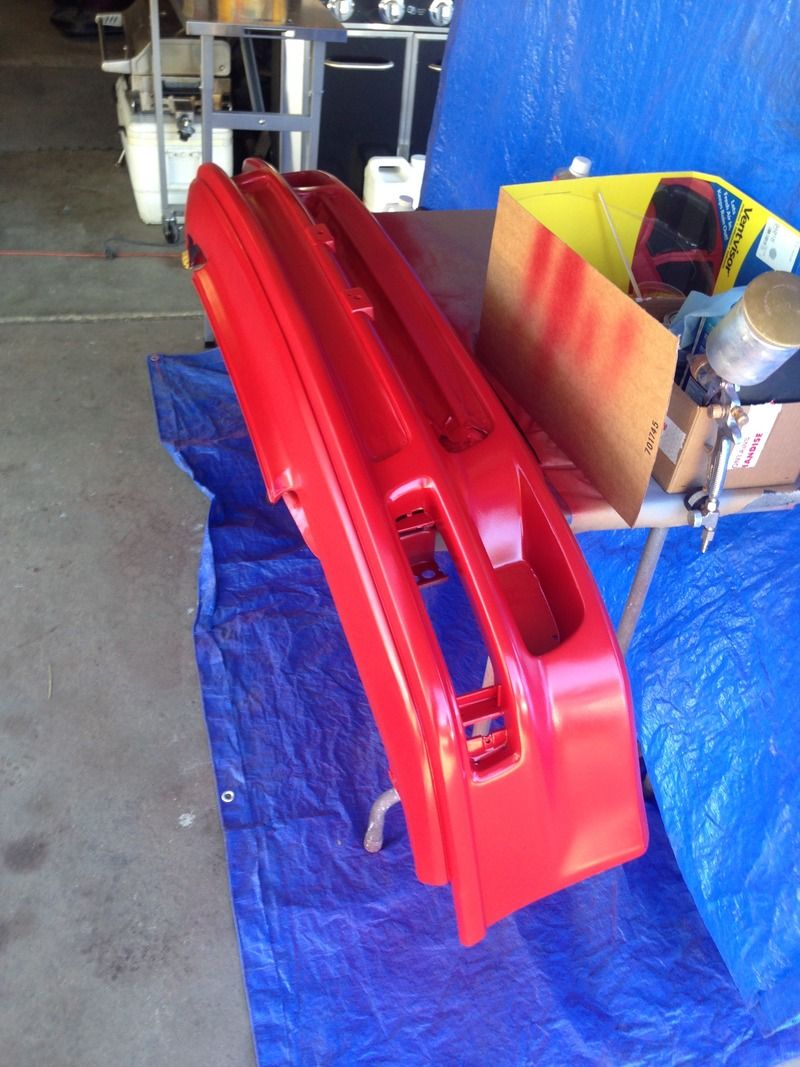 heres the paint what was on the grill stuck on my hood to compare to my fender..theres hope haha.