First off! this thread WILL have a ton of pictures since i have the habit of taking pictures of everything i do.
a little background of myself. if you havent gotten the hint, EFnStatic is my Instagram name. im also go by the name YoungStatic But my everyday name is Dana.
i previously owned an EF sedan that had the rustoleum paintjob which unfortunately i sold in Feb2014. (2006)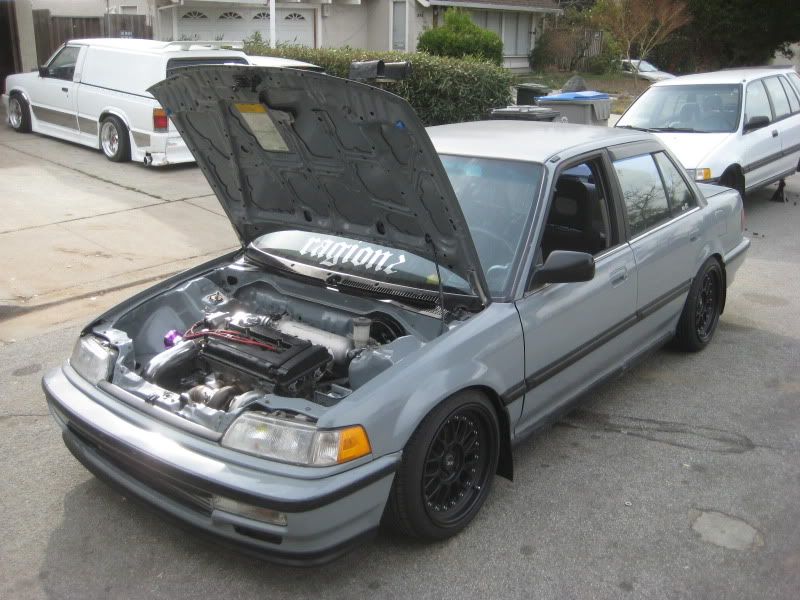 i also , currently, own my 90 civic Wagon RHD which is sitting heartless under the covers.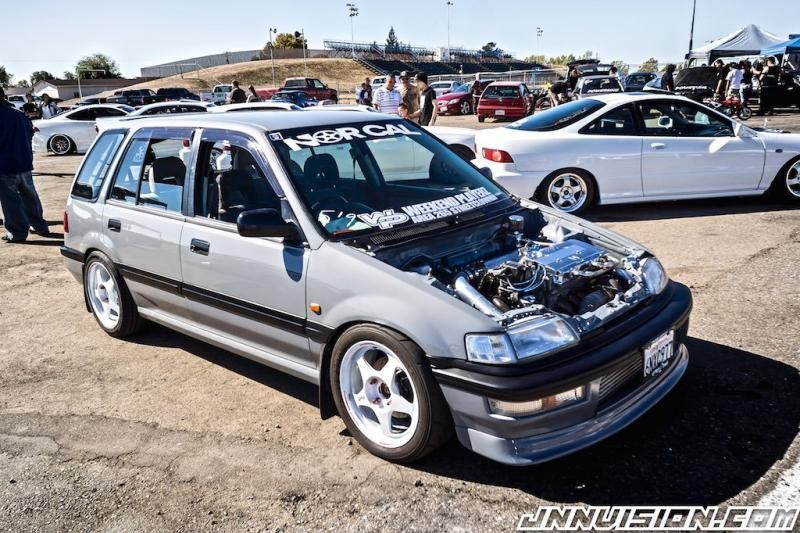 thats just 2 highlights of my 4 cars saga. this thread contains my 5th car.
with that said! i could have not refused a deal so sweet my buddy offered me! his daily crx, a 90 si took a dump presenting a rod knock. he didnt want to deal with the car as he also has other cars to drive and had to focused on his prized EF9 inspired hatch. he offered me the car as a shell for $250! so i sold my daily RT4wd wagon (which i could dearly use the money) and bought the complete shell end of Jan 2015!!
i dont have picture of the interior but it was nearly 100% complete and all it needed was an engine. so i went ahead and started the registration process and the build was under way. with my wagon not seeing the road anytime soon, i figured i could take out my engine and move it over into the crx. we will get to that in a bit.
i will try to post in the order the modifications were done in but first this is how i brought it home.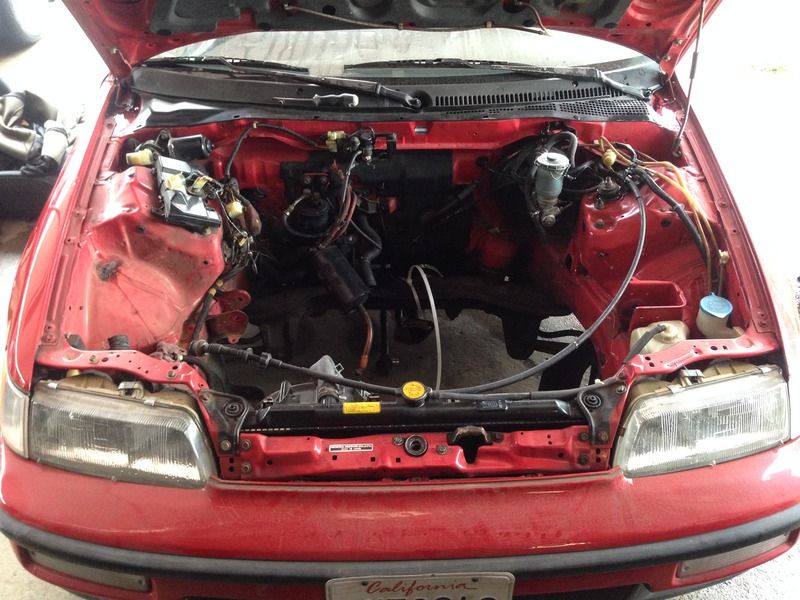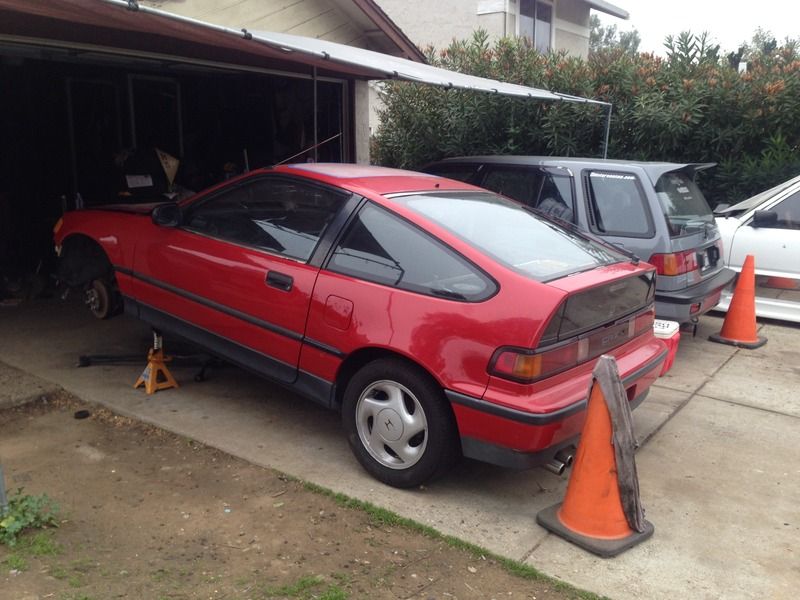 im very known for fast progress so this build escalated quickly haha.
first things first. i started to clean up the bay for the transplant. removed the items i didnt need. did the wire tuck on both sides. scrubbed the bay and replaced a few hoses and misc.
flared my fuel like for my fuel tuck
new heater hoses.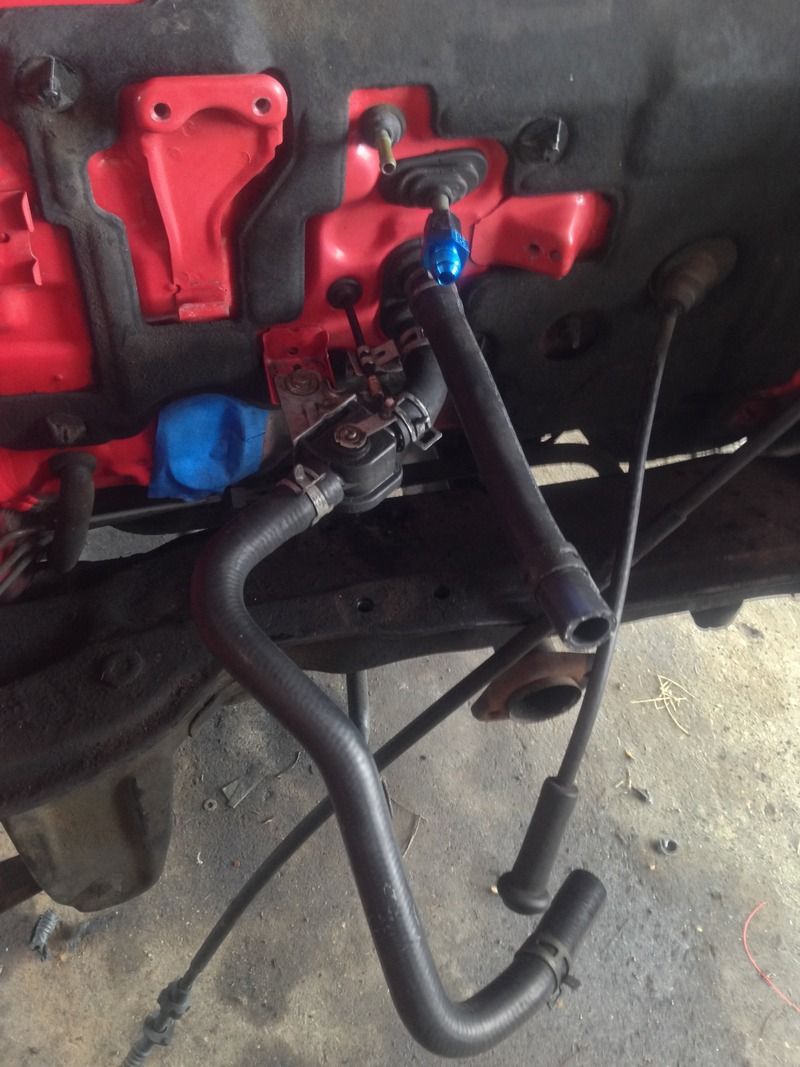 before and after.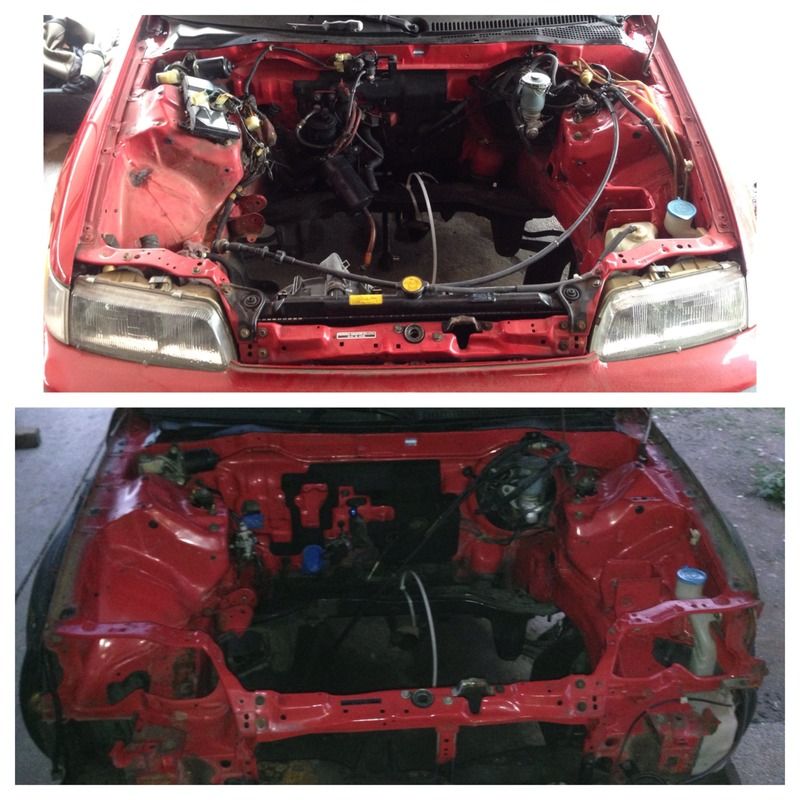 started ordering some parts as i left most of them in the wagon for my future swap. got an innovative traction bar, skunk alpha half core and b16 skunk hoses this time around.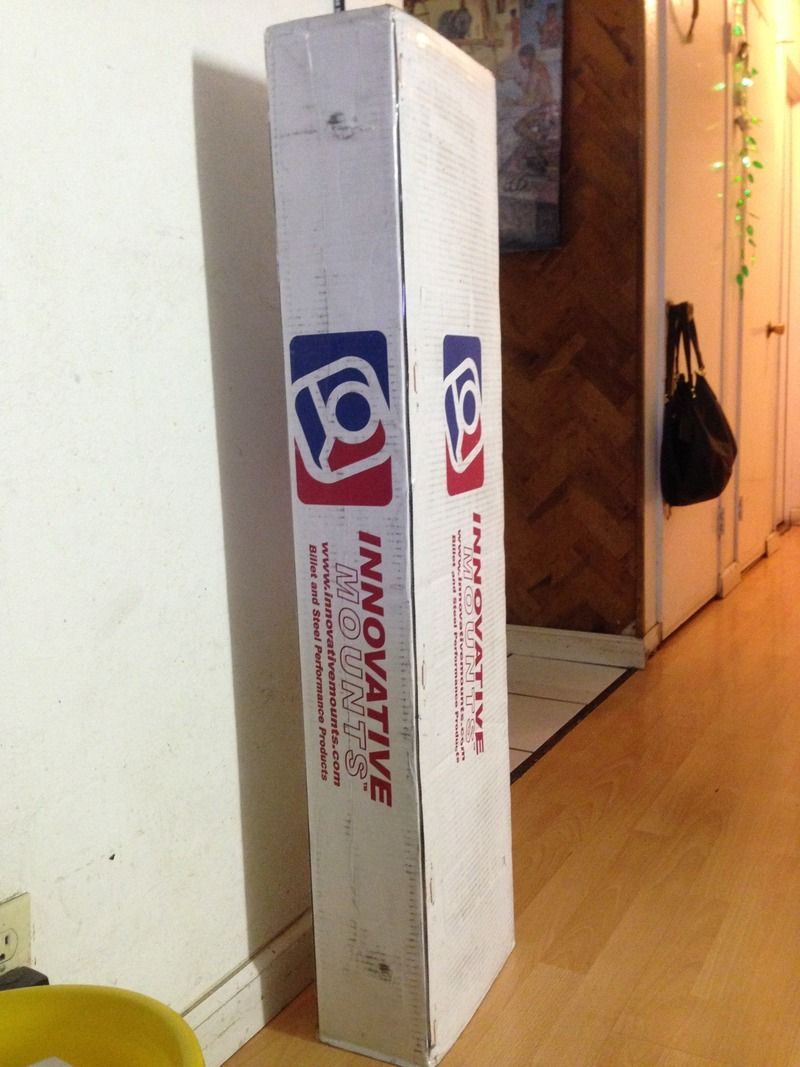 and now the transplant begins. this was mid Feb. the engine in my wagon that was also in my sedan is a mild built LS-Vtec turbo setup. has internals currently off the gate making 311hp. (de-tuned from the 419/296) this was removed and installed without a cherry picker..very scary haha. but i made it happen without a problem.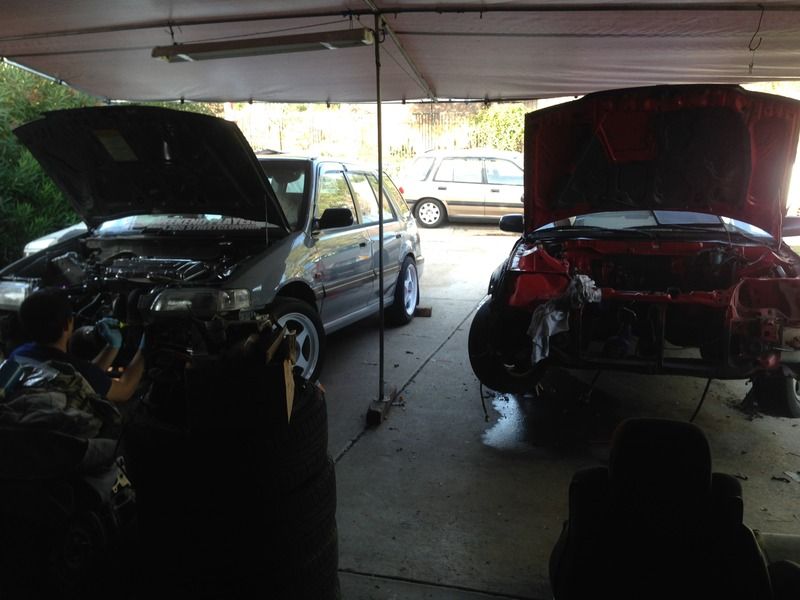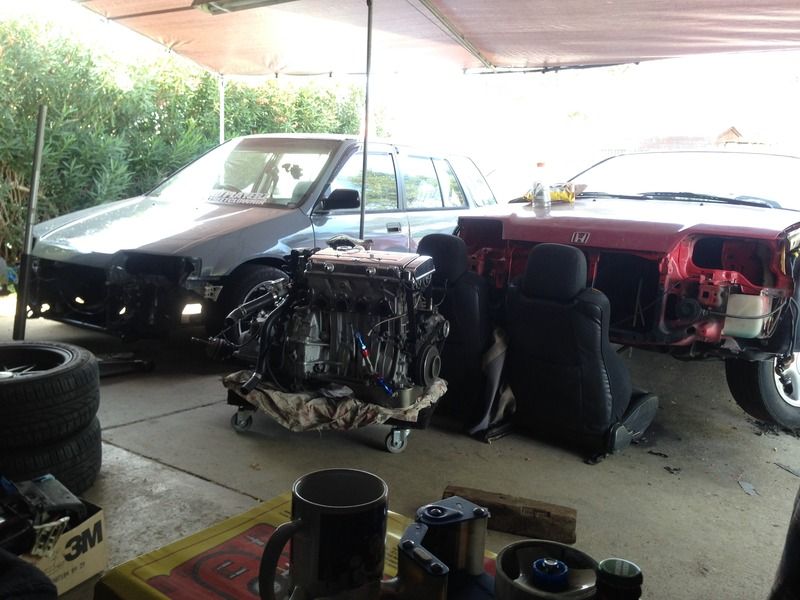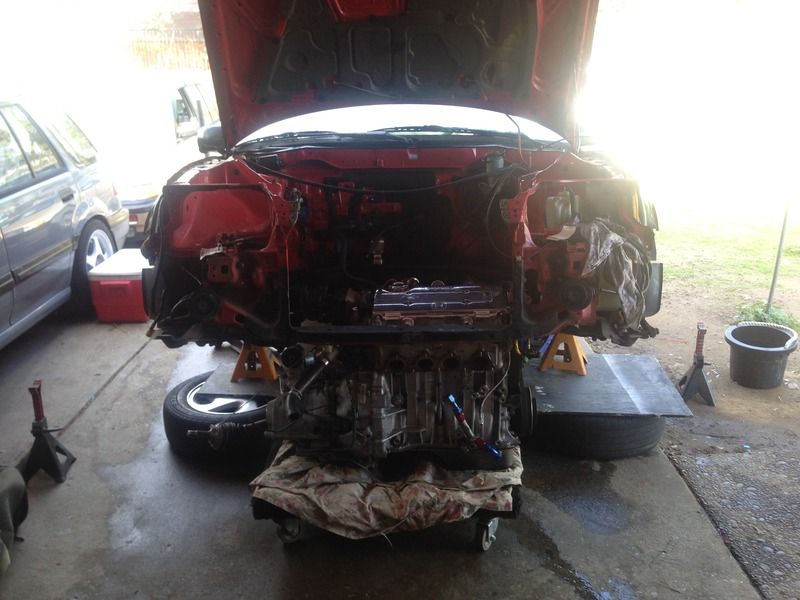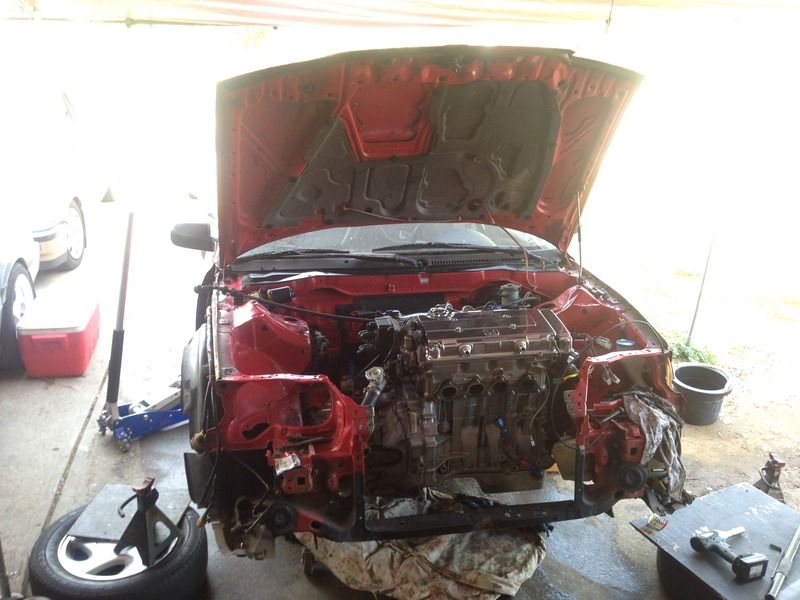 wired in my ZC glass headlights with pigtails.
hood fitment problems.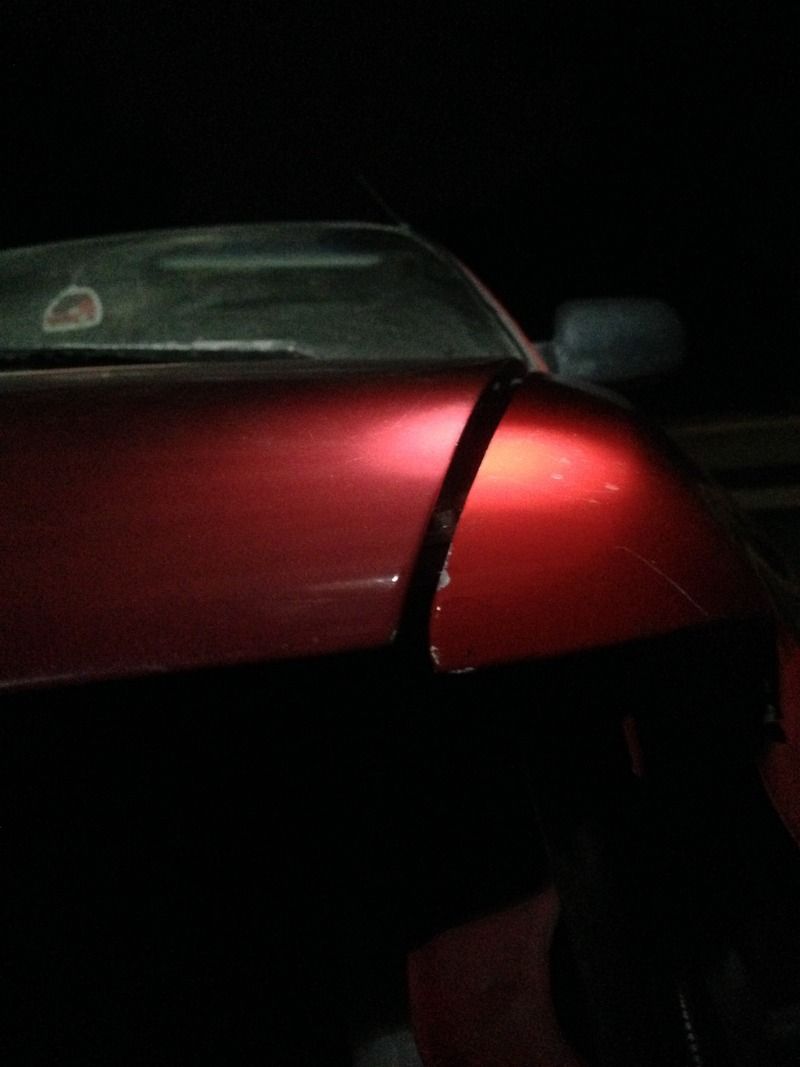 got the traction bar installed. function form type 1 installed. intercooler installed. on this car, i modified it to sit more inward the radiator support so i wouldnt have to cut out my grill to achieve this "sleeper" name. so that means i had to get new pipings made. also since im not running a tucked radiator anymore and now with the skunk 2, i have to get my down pipe remade as well. so that was under way.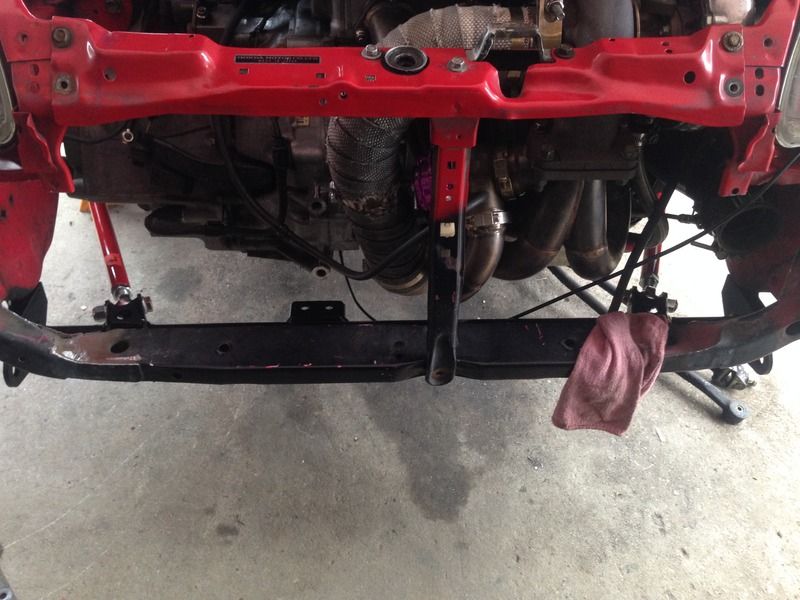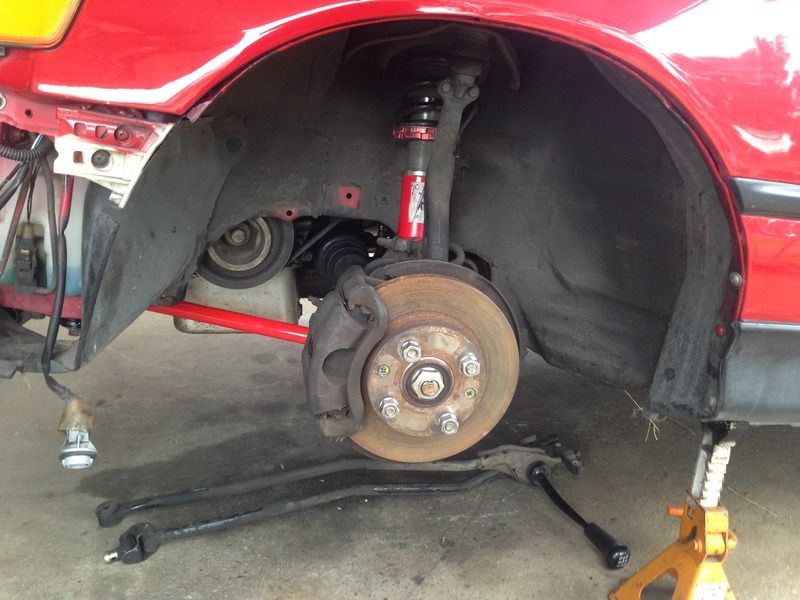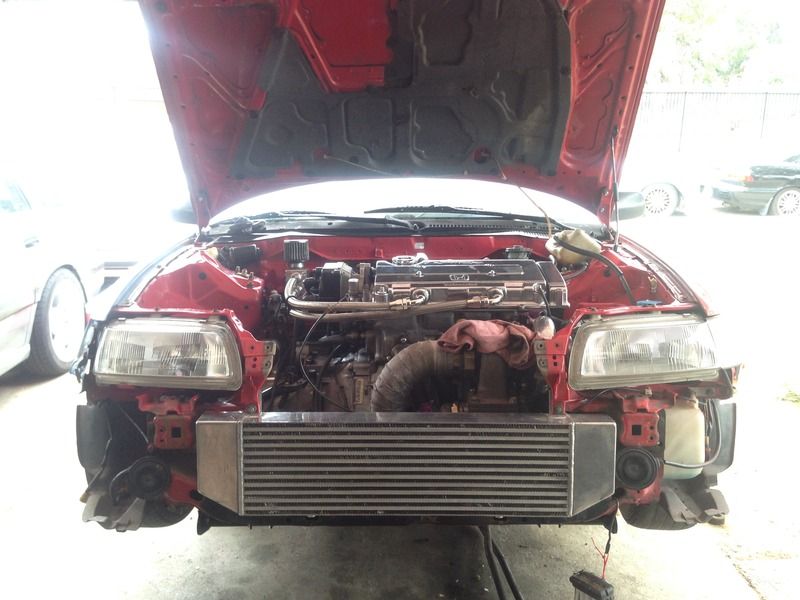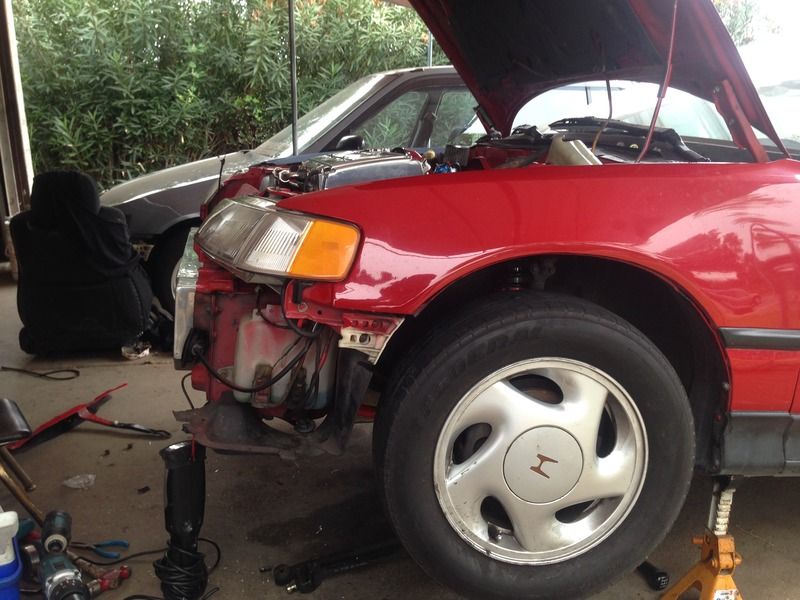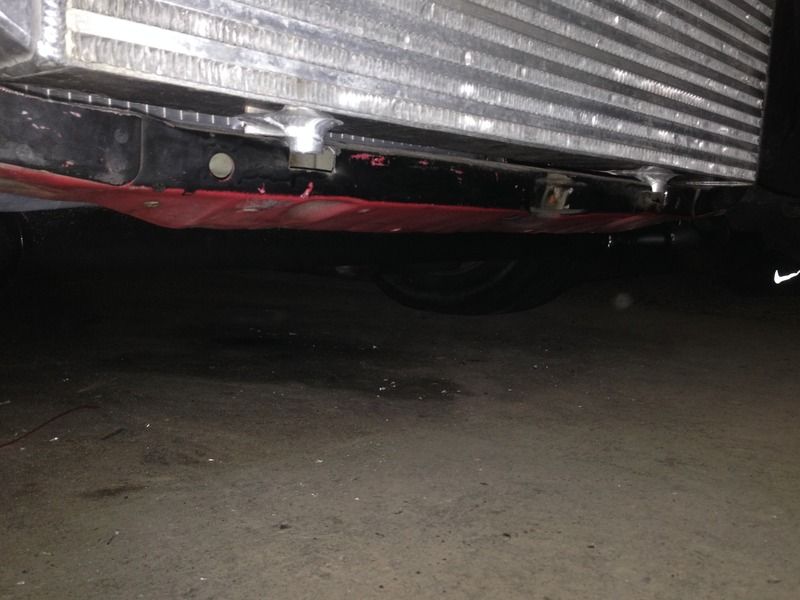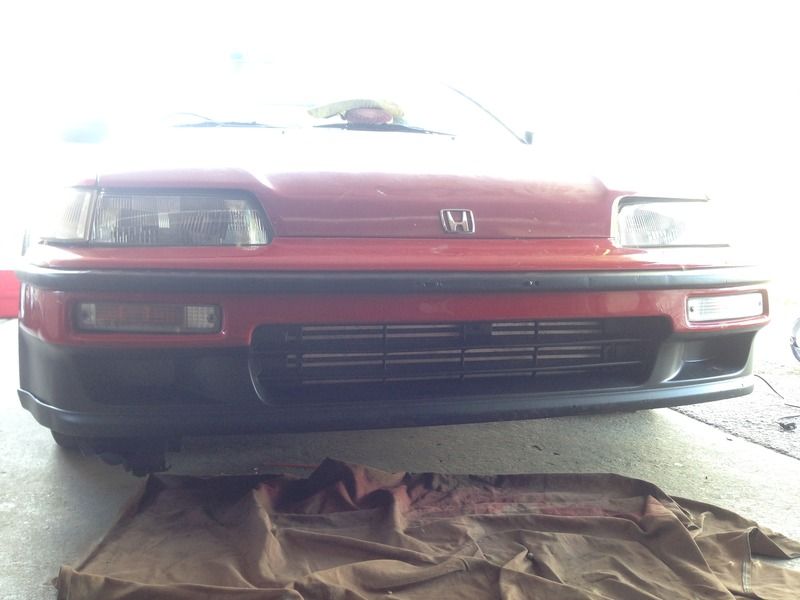 dropped off at my buddies house fabbed by KellyBuilt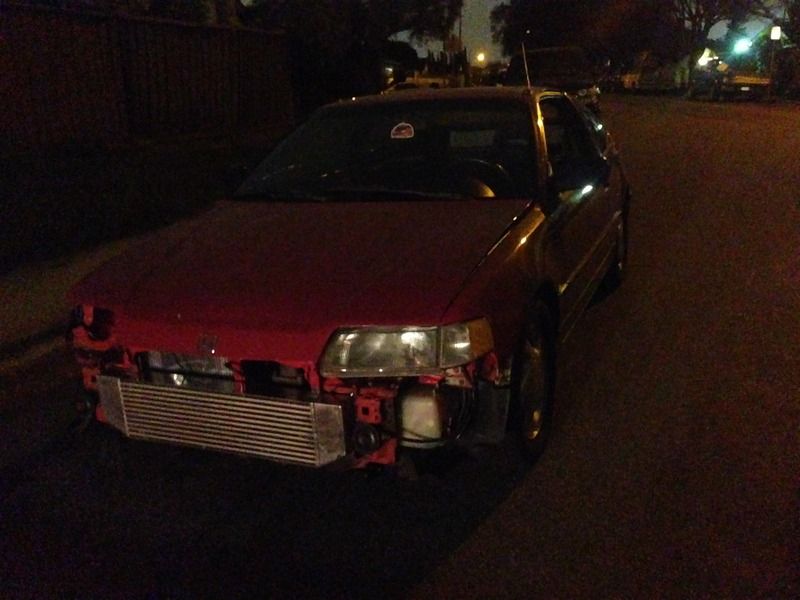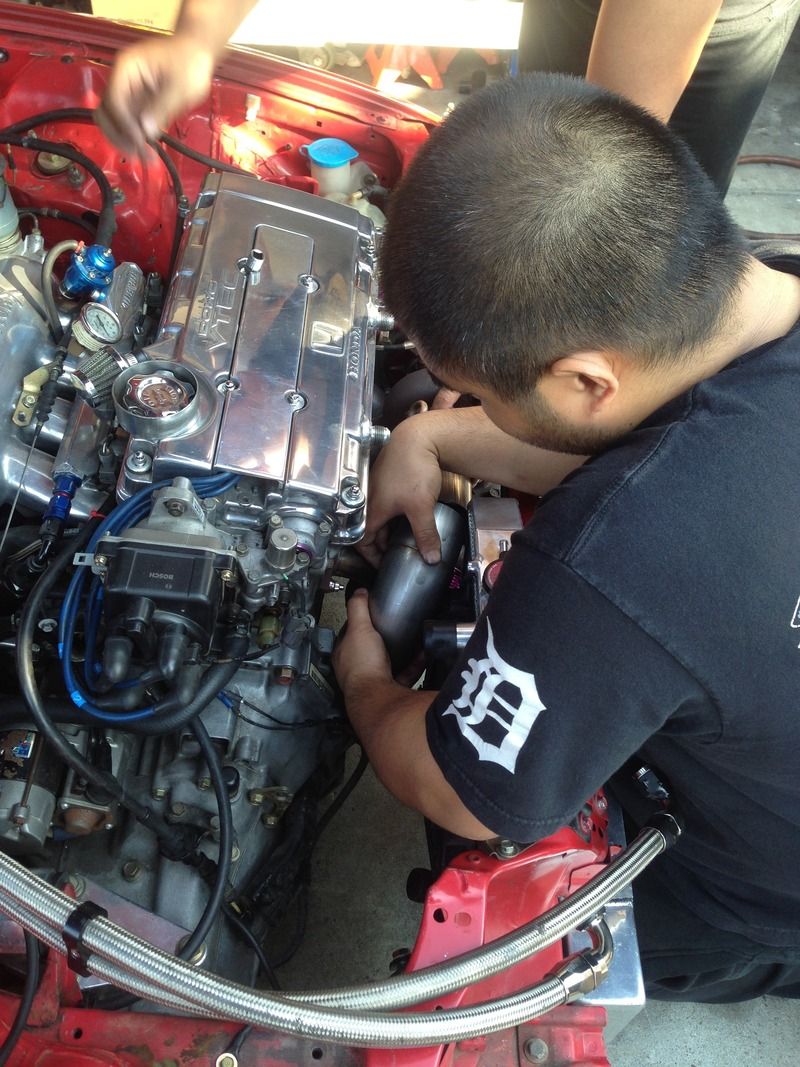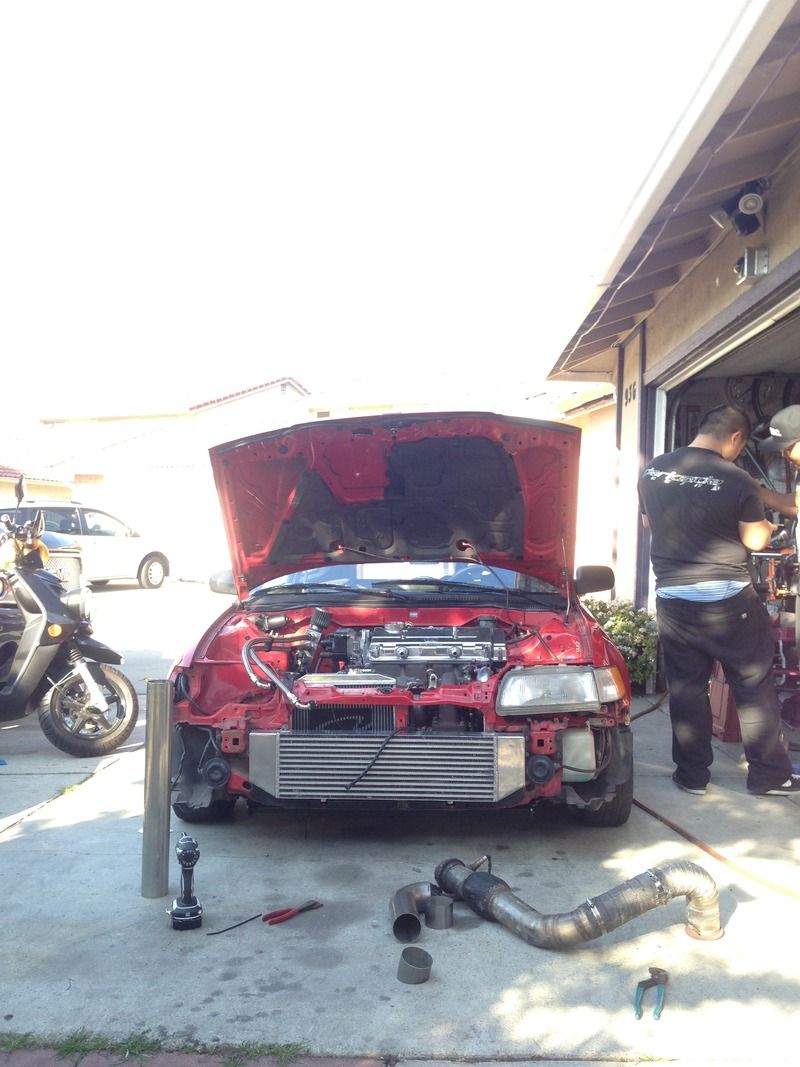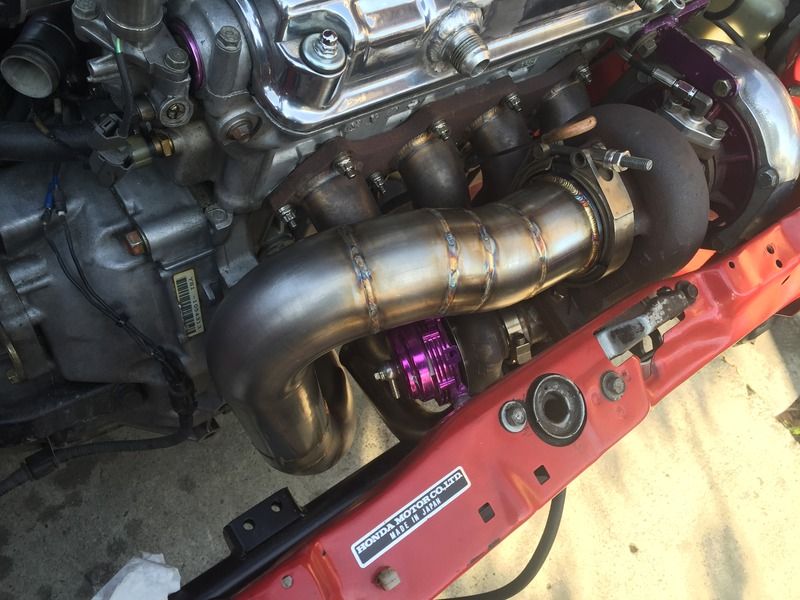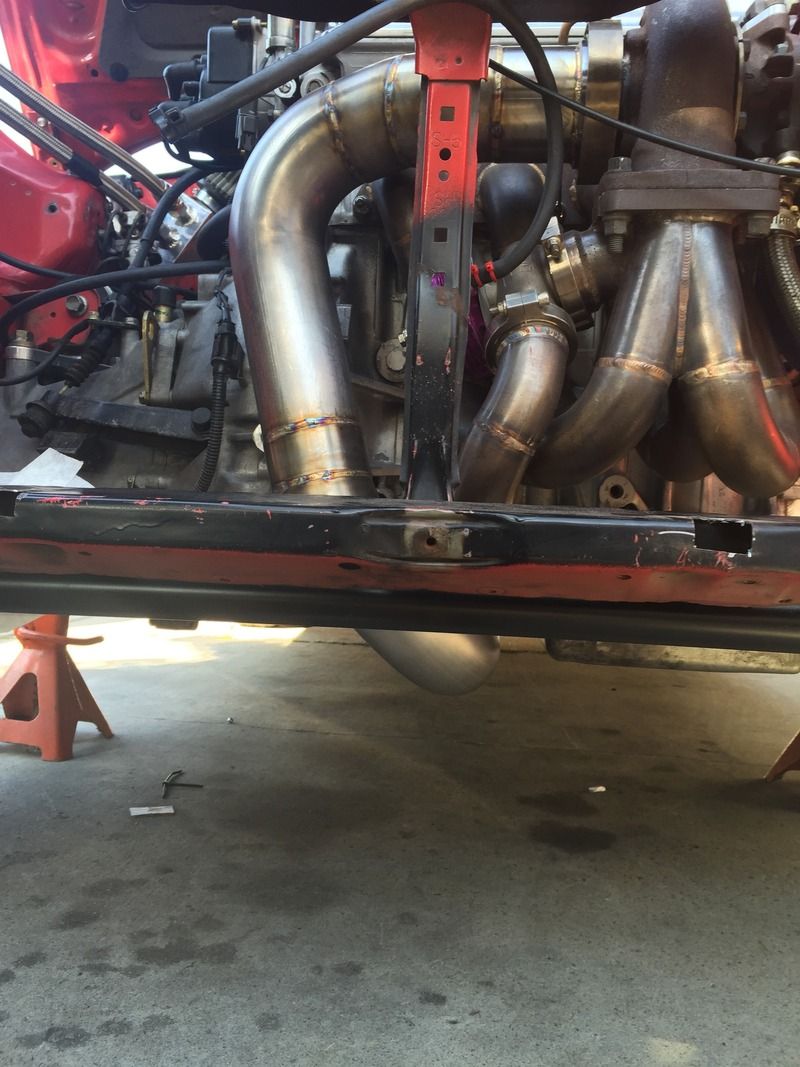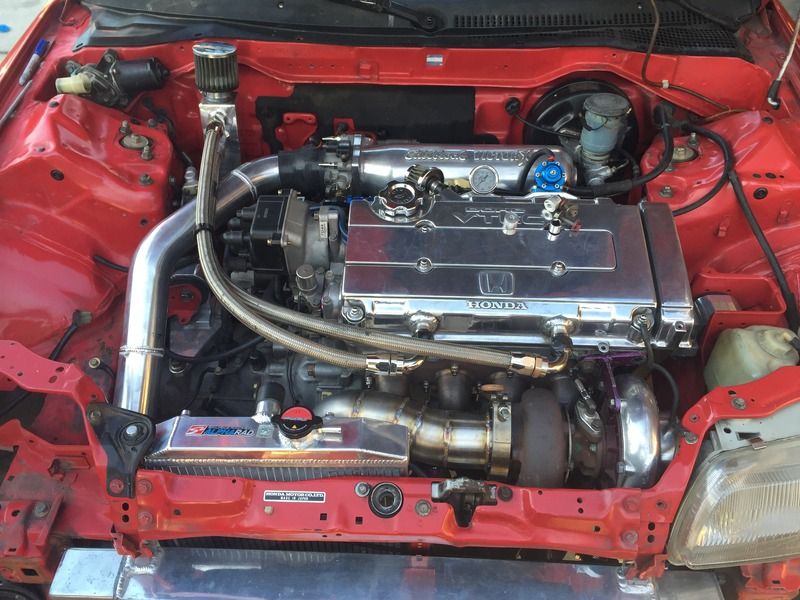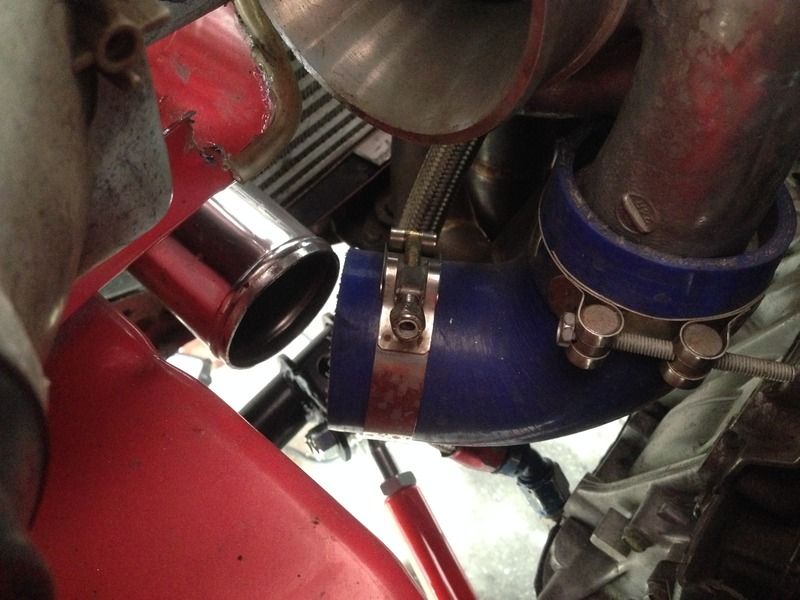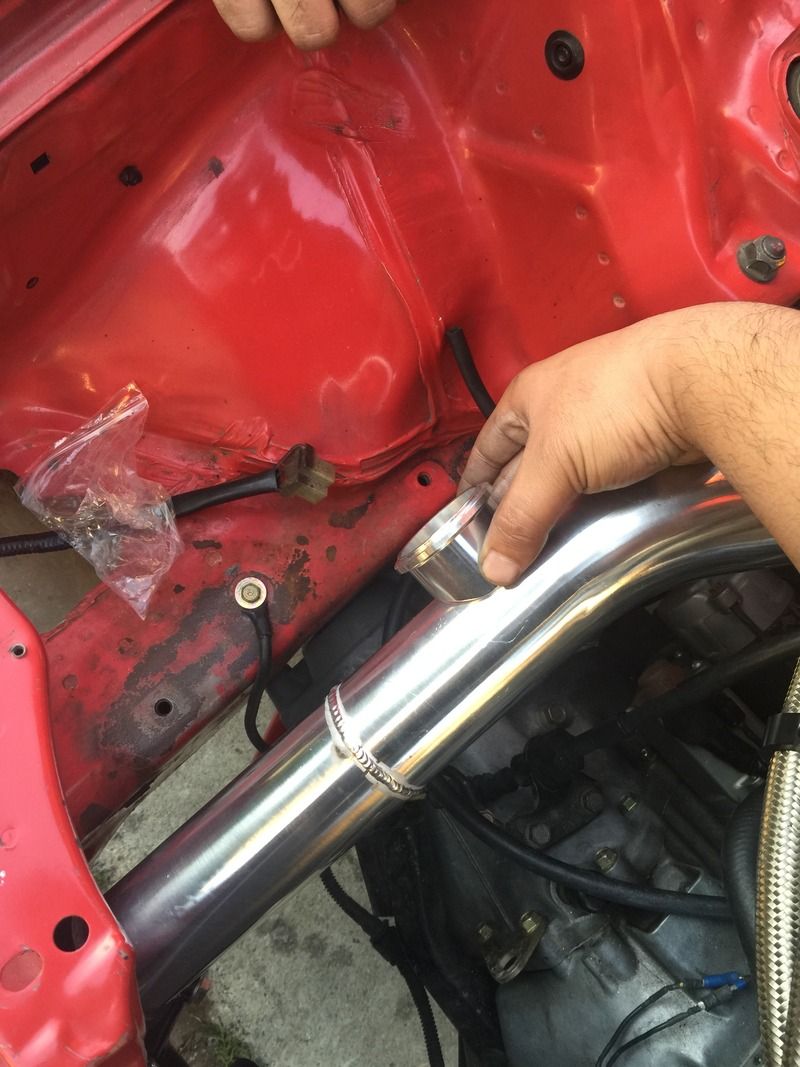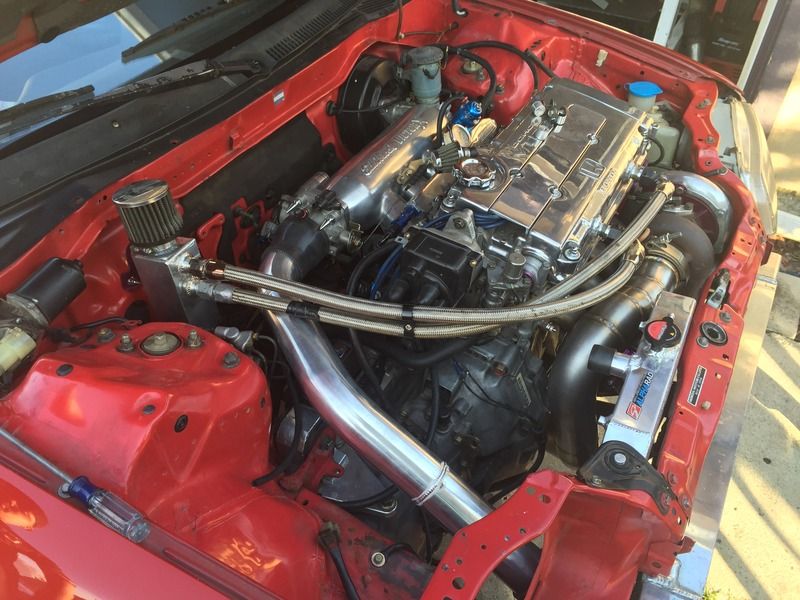 while the car was over at his place, i took the time to freshen up a spare fender i bought for the car since the last owner had the hood fly open and smacked the windshield and the fender causing damage. so i repaired, repainted, cut and buffed it out. bleh, original rio red and the car was repainted something like a slight darker red.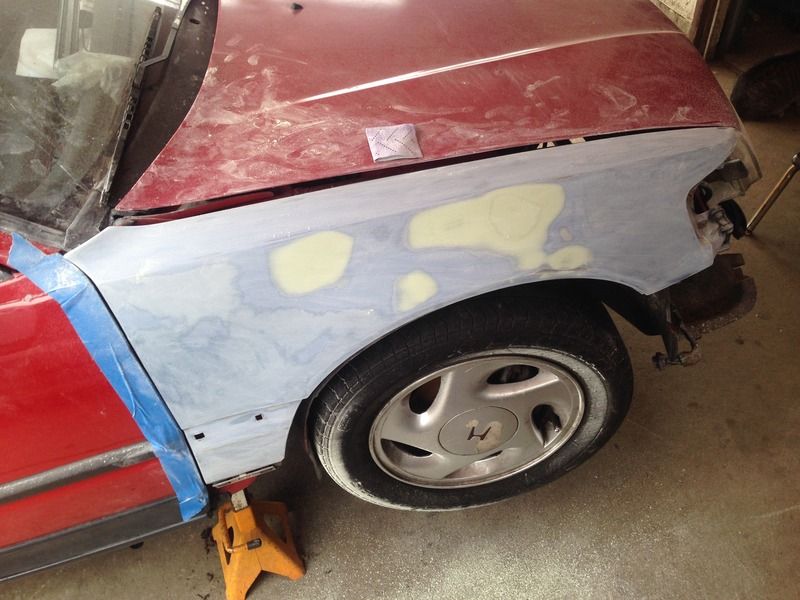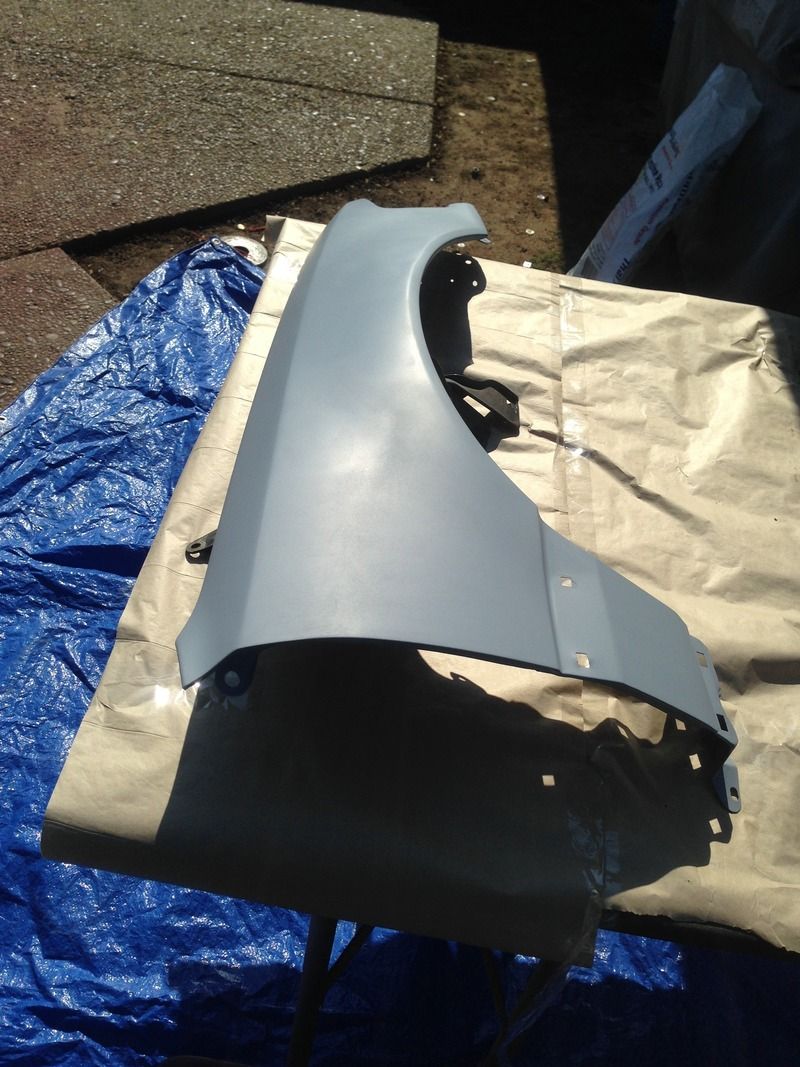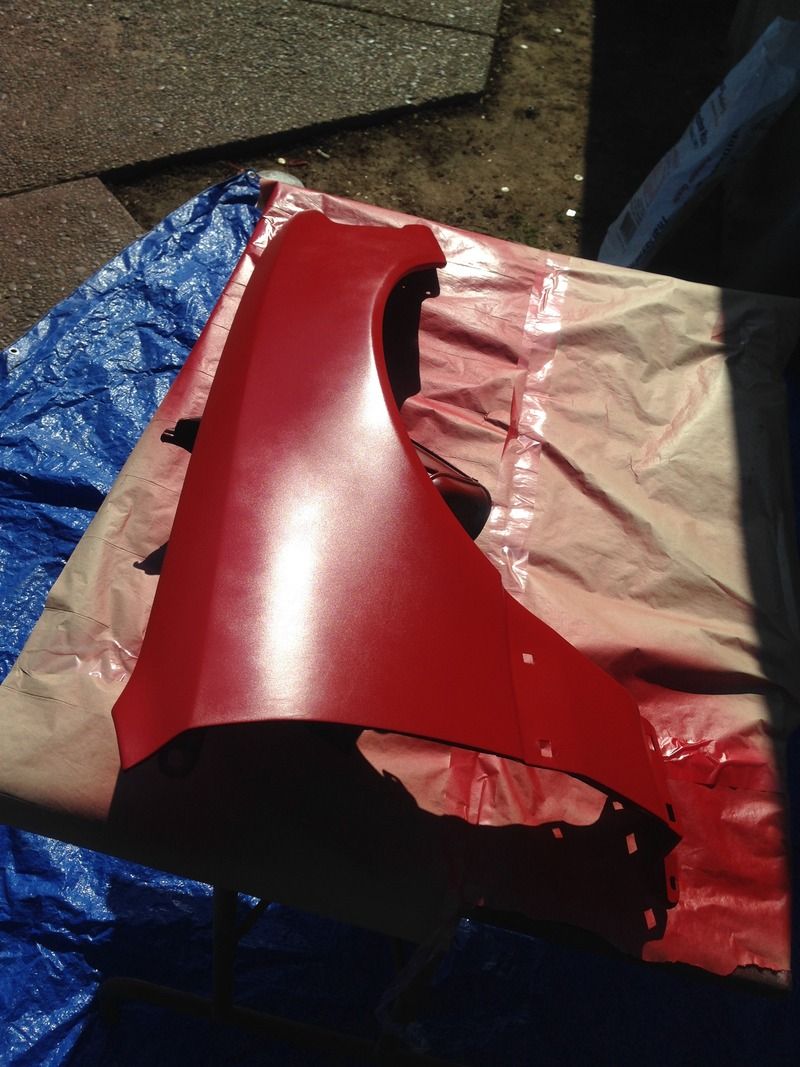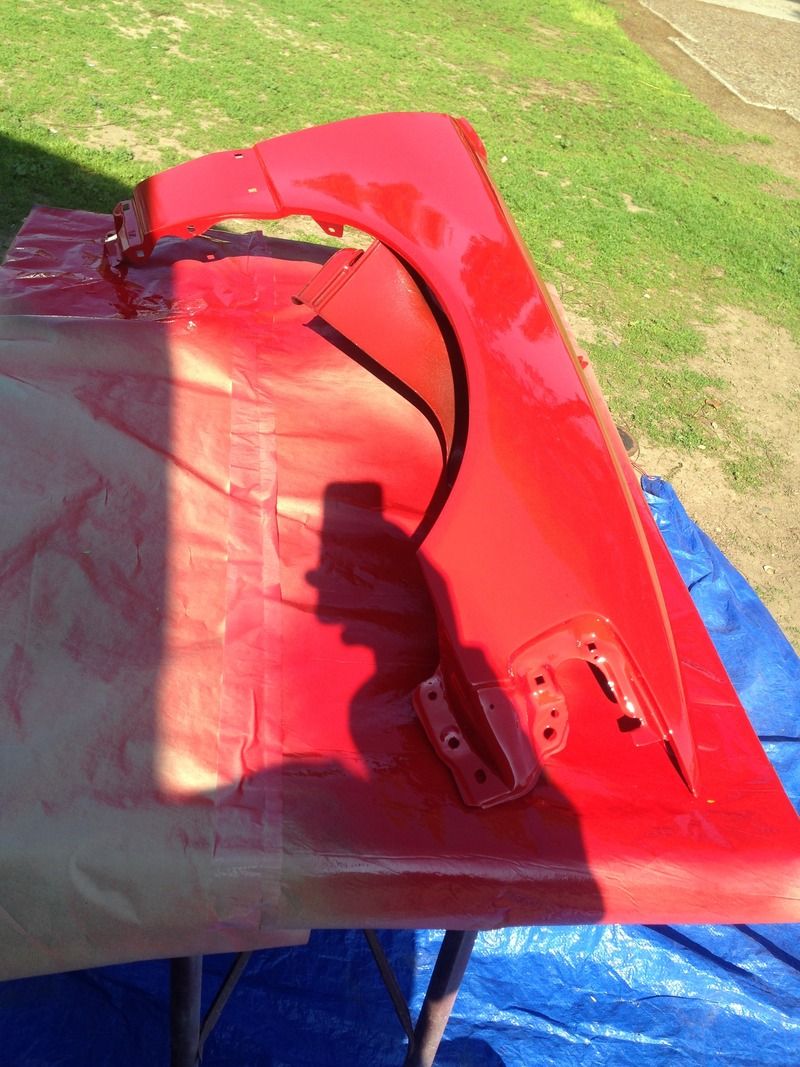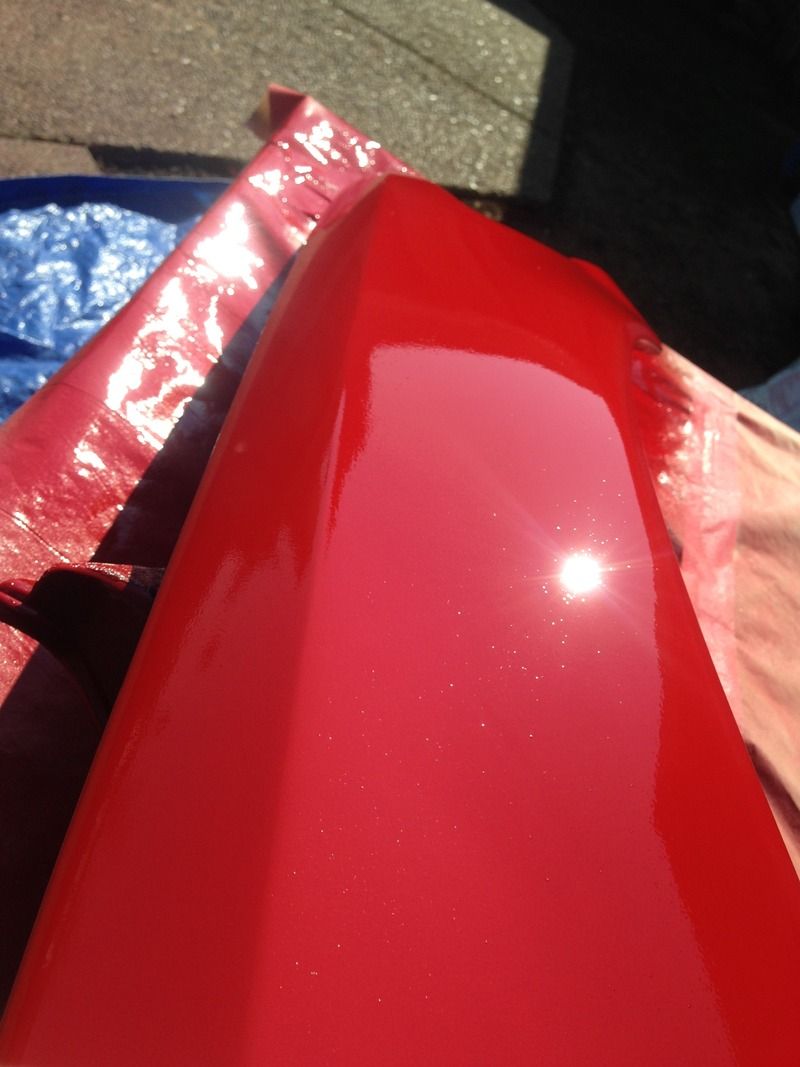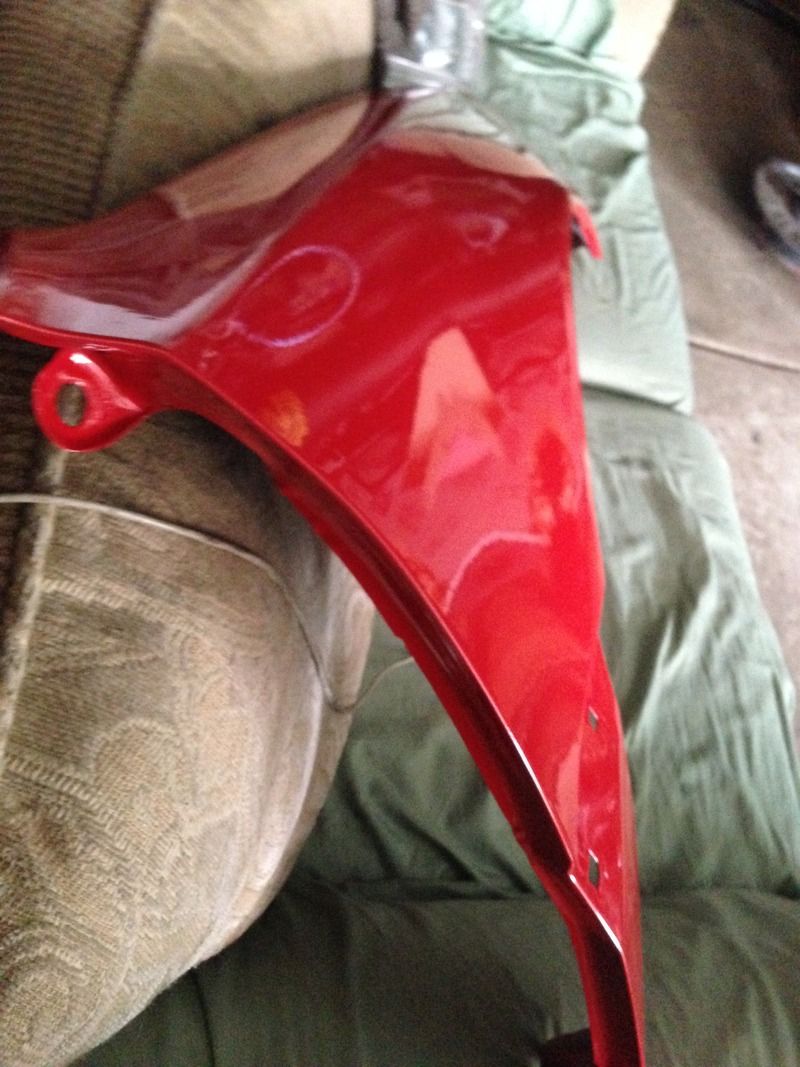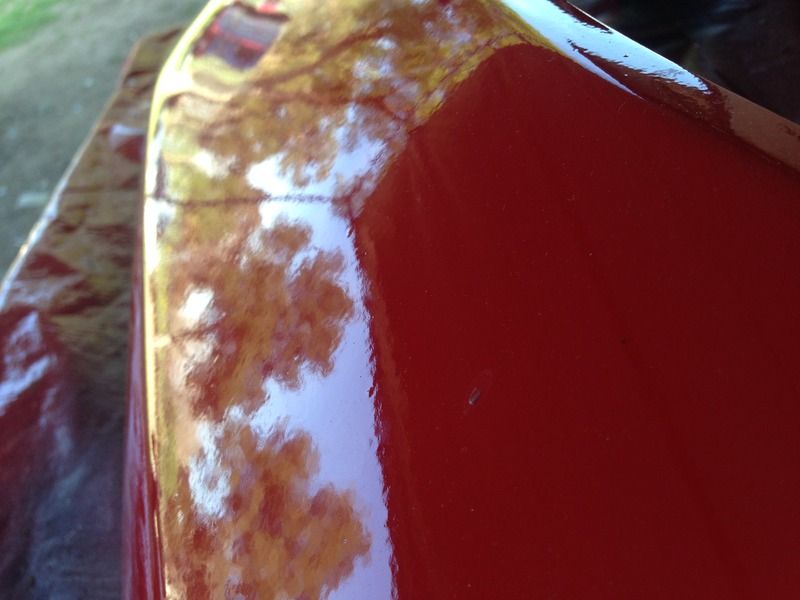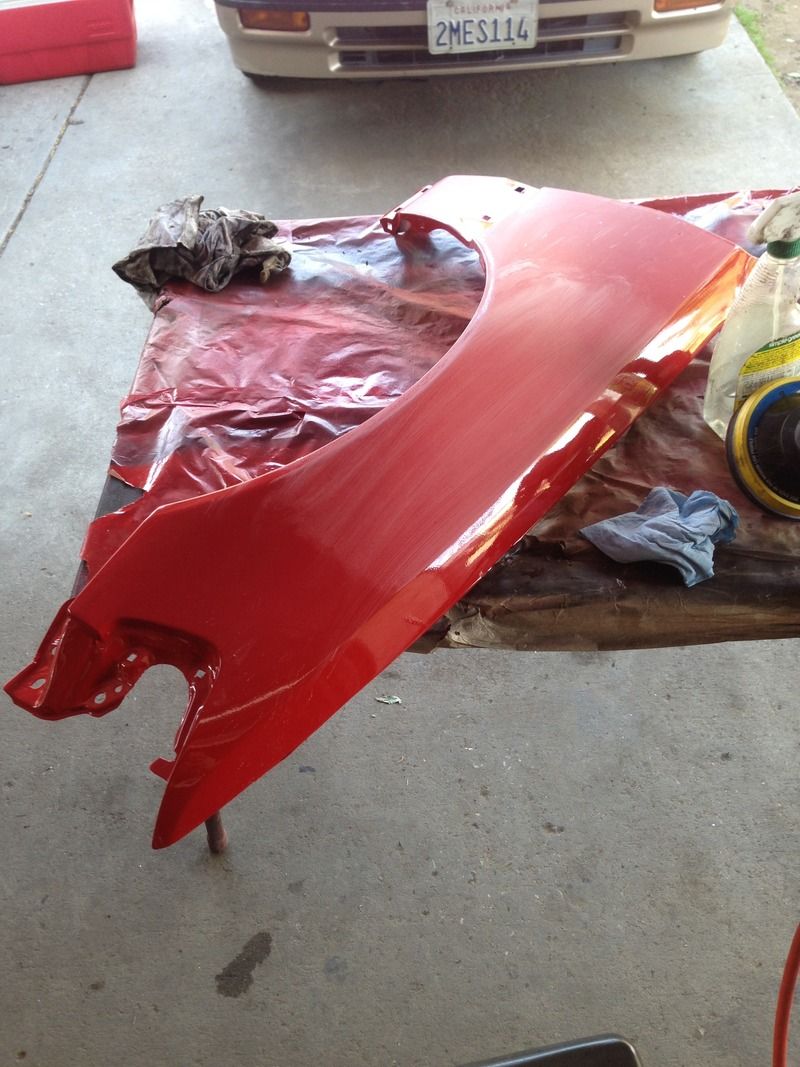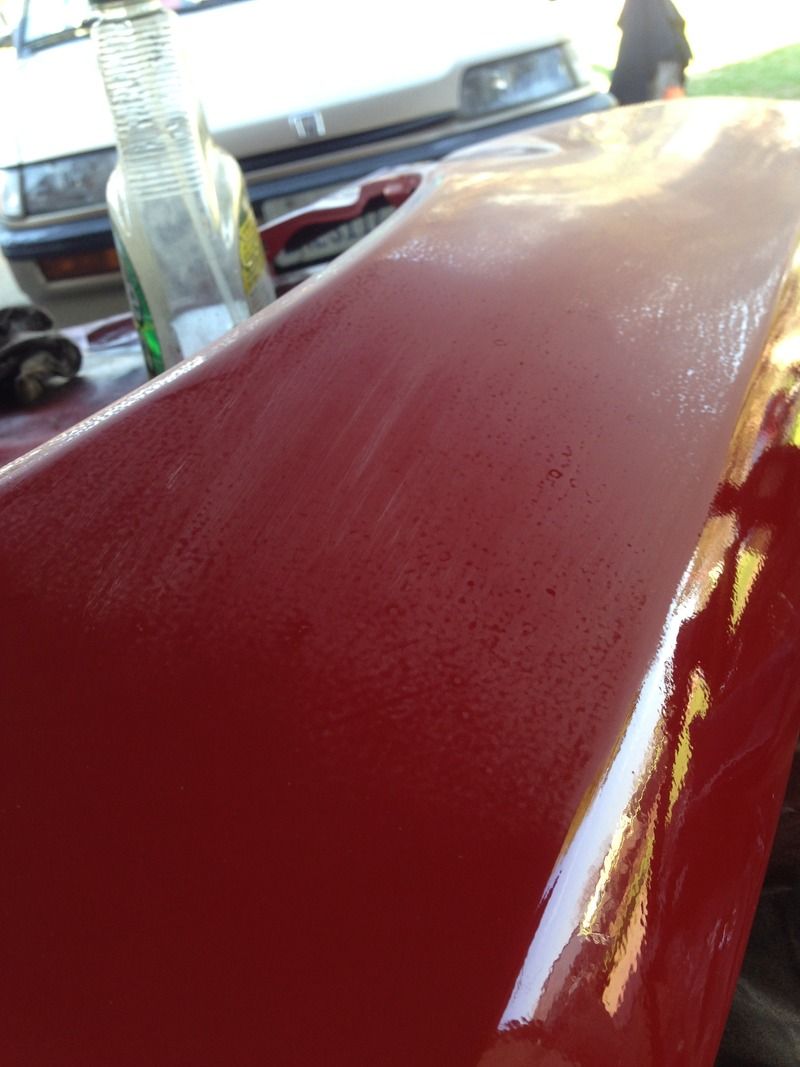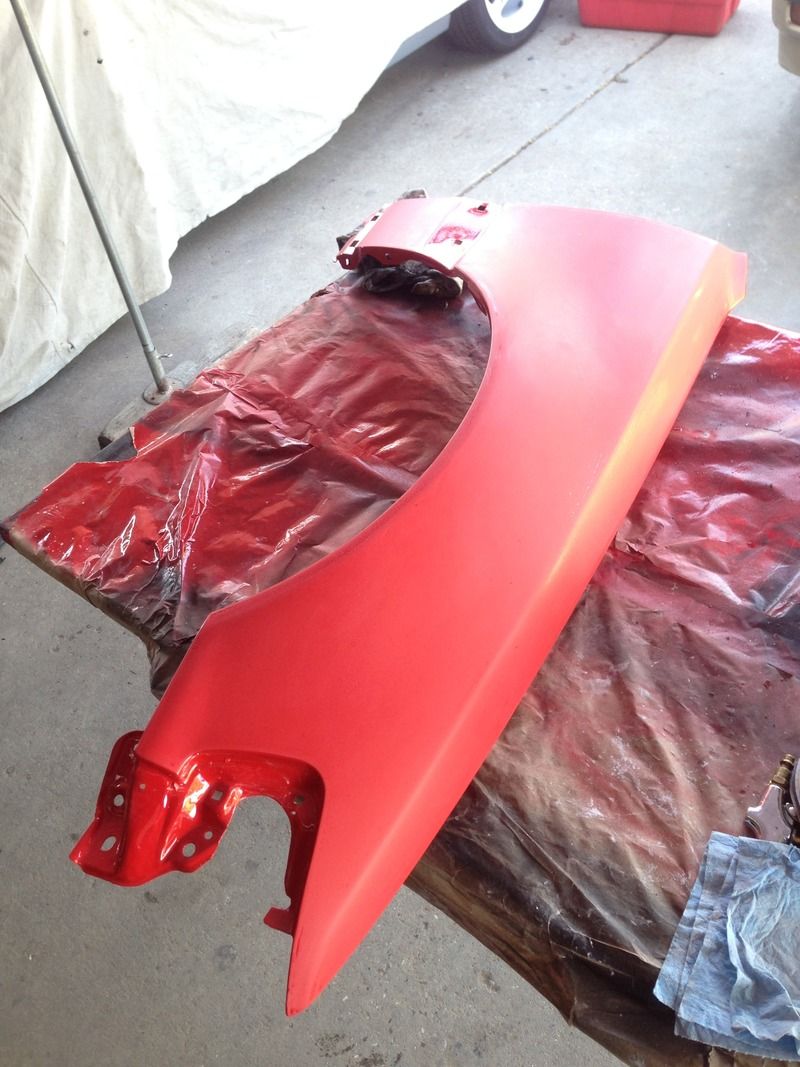 also had the front bumper with me so i did some sanding and polishing. then i retrimmed all the black back to a fresh semi black with duplicolor. scored an si lip in the yard as well!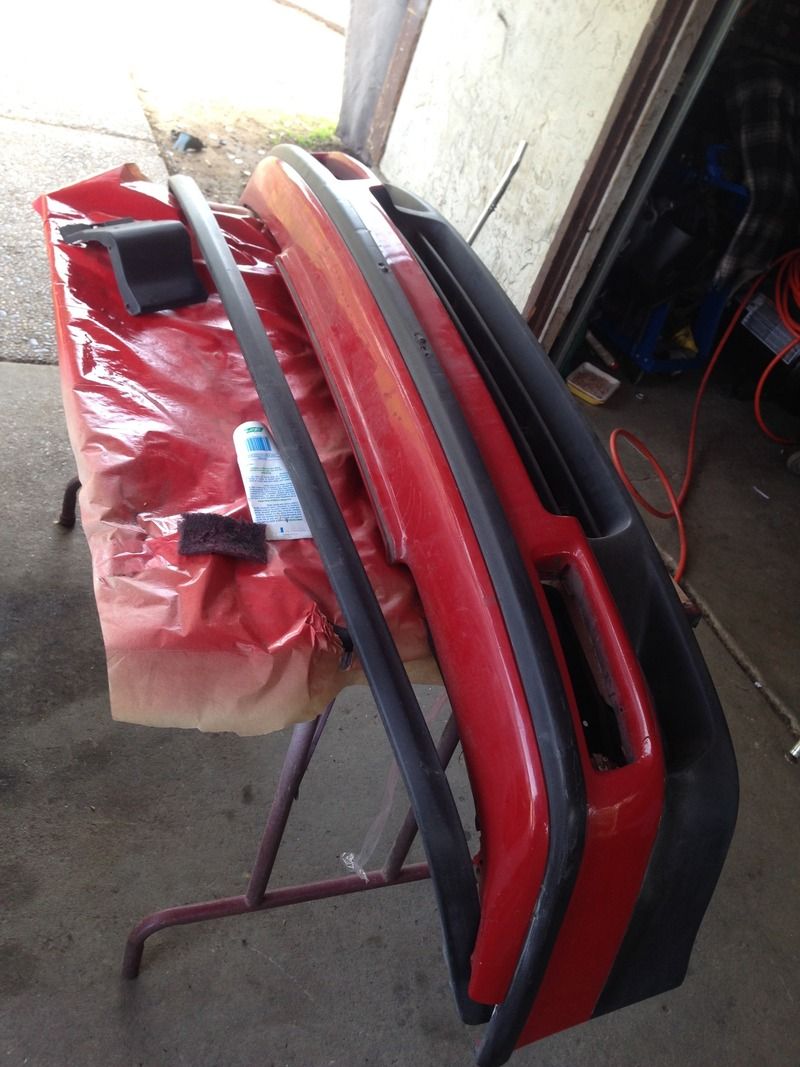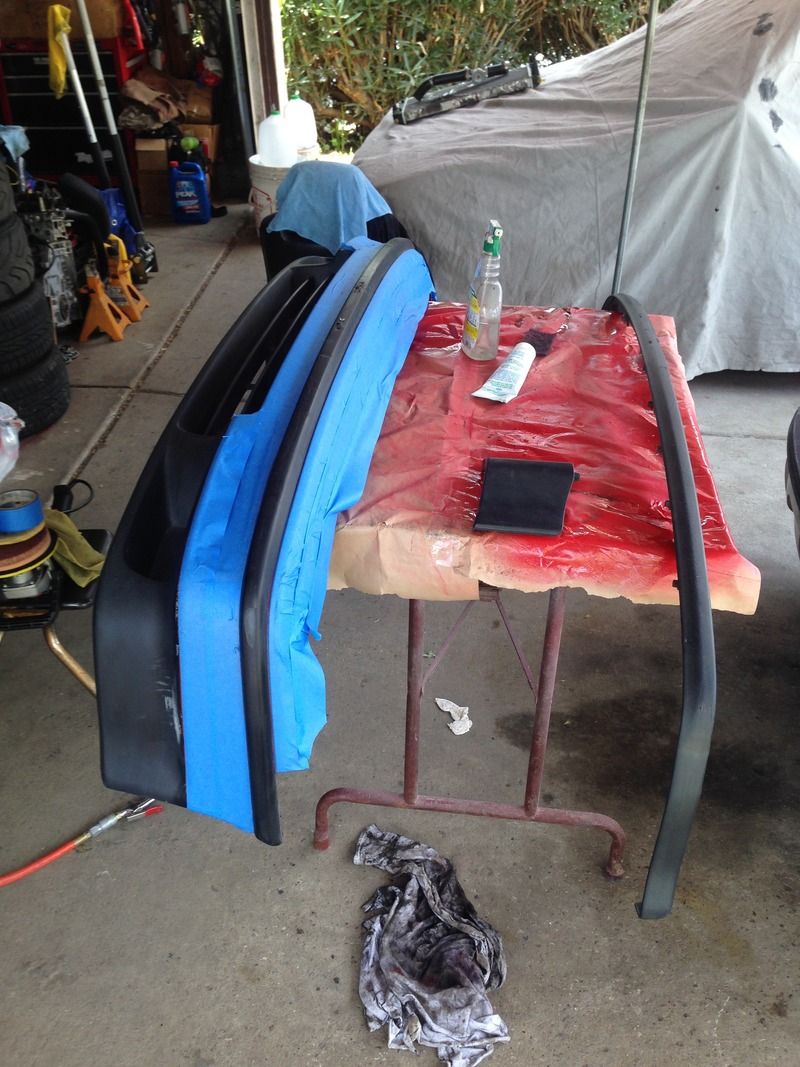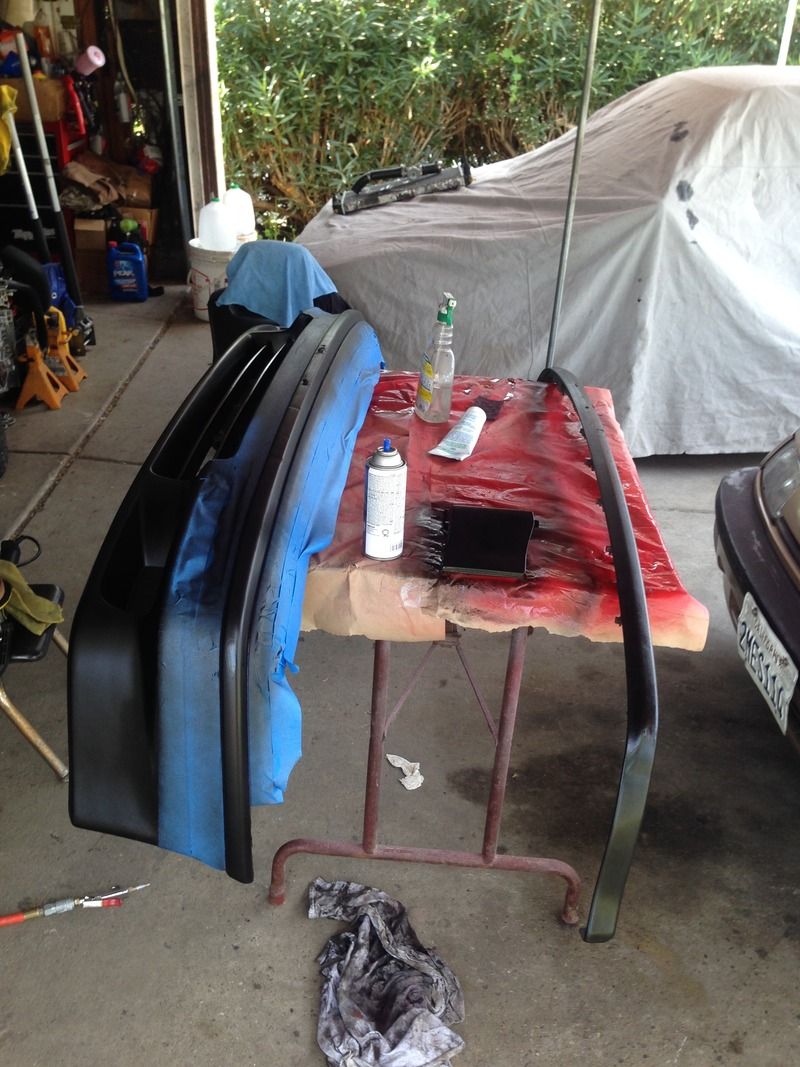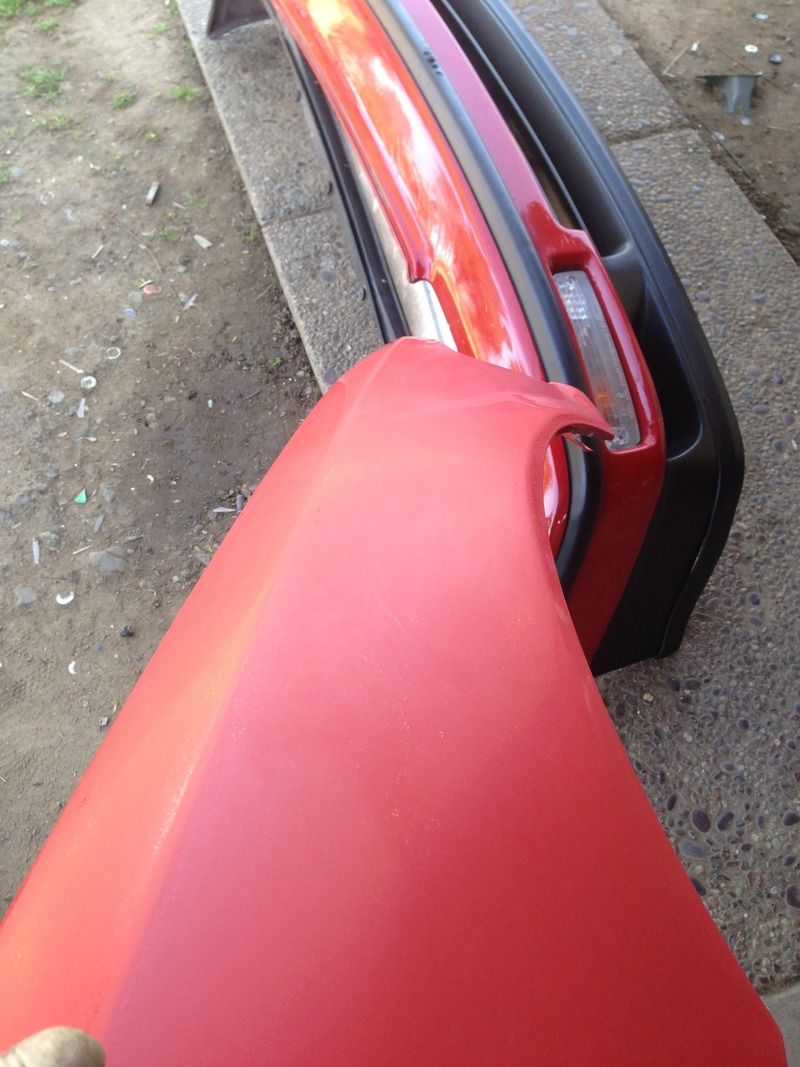 then these guys. i didnt have plastic compound so i did what i could.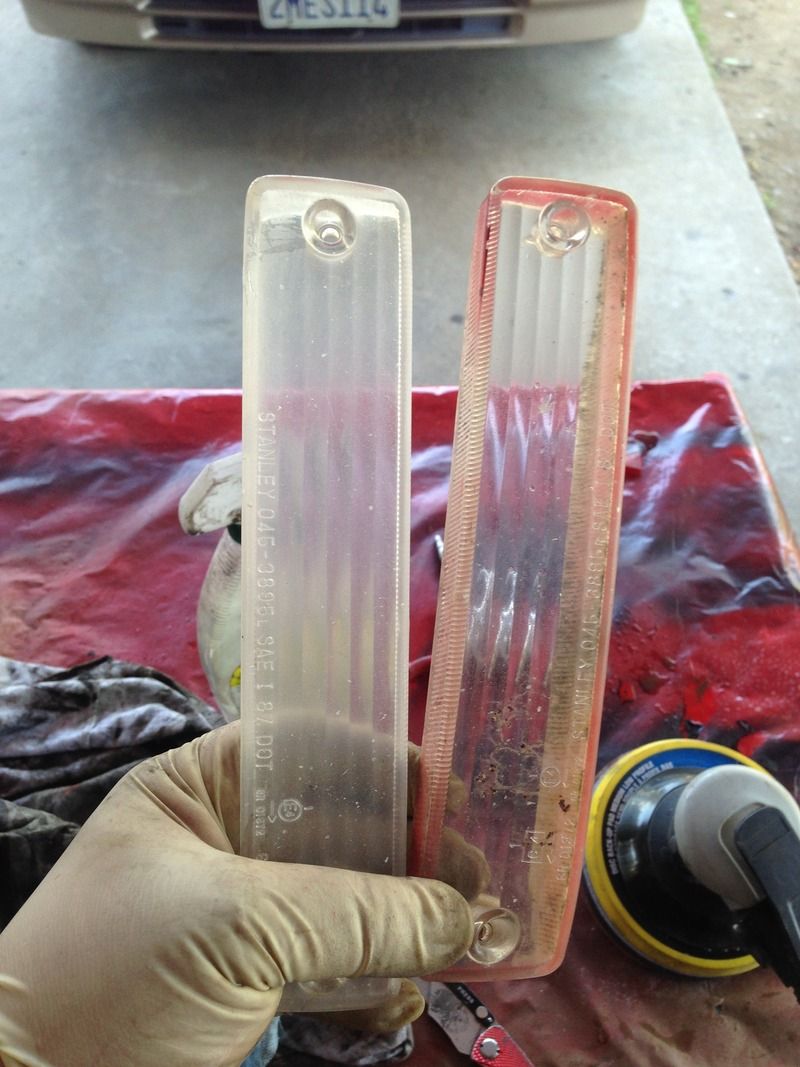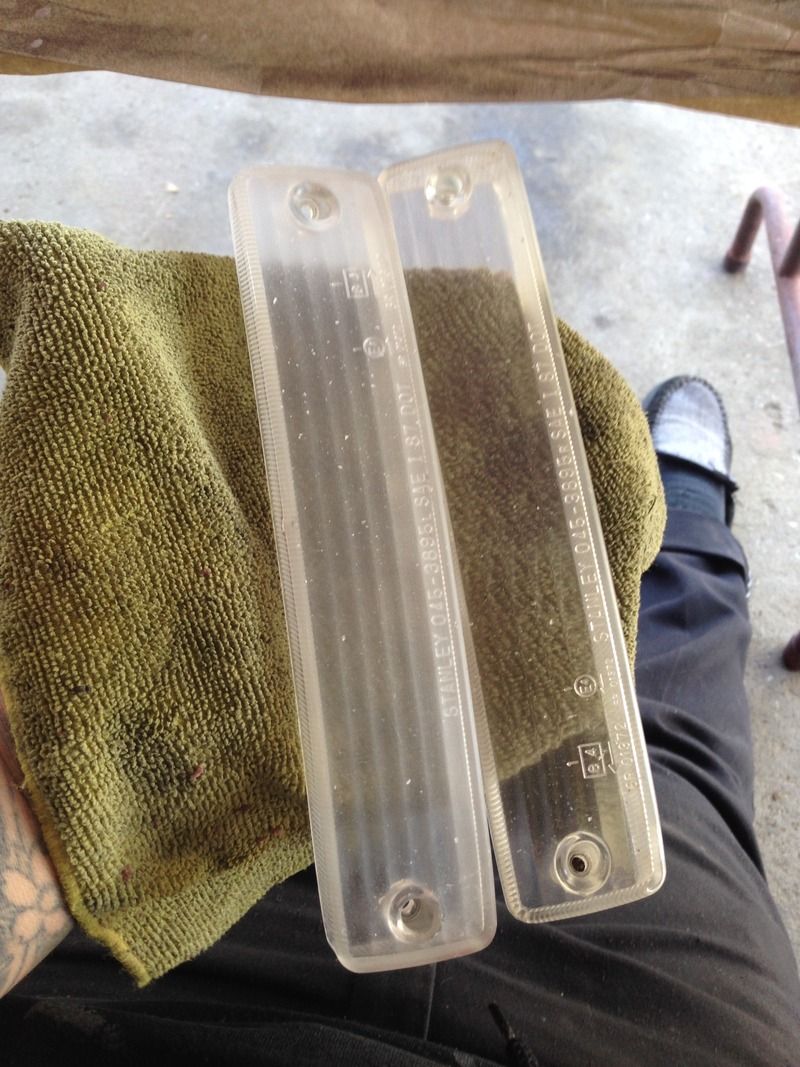 got the car back and put on the fender to cut and buff it out. i did a quick pass with meguiars diamond cut i had lying around. could be better, but its already better than the last fender.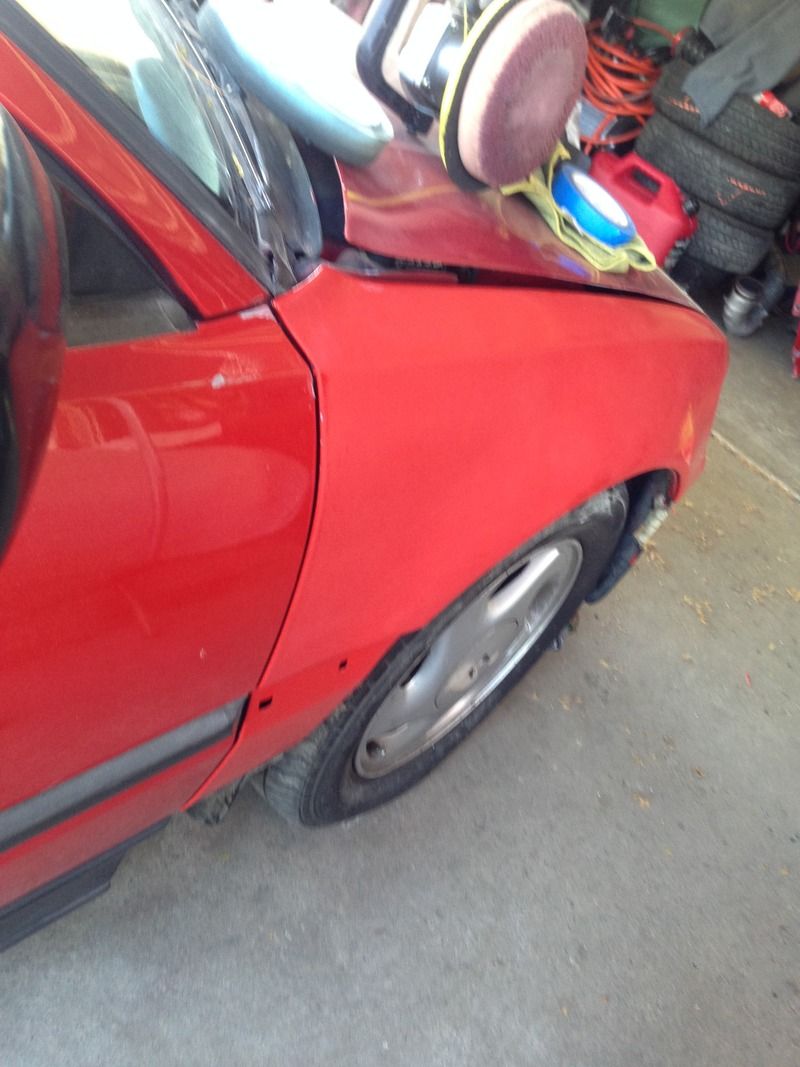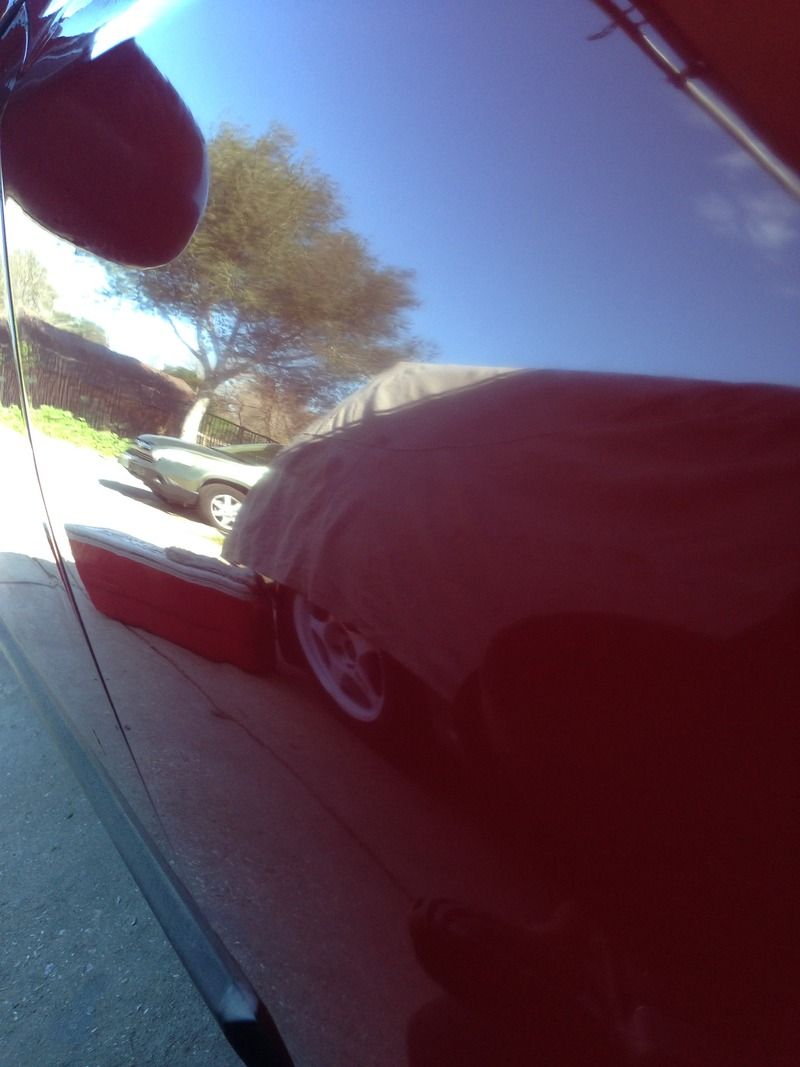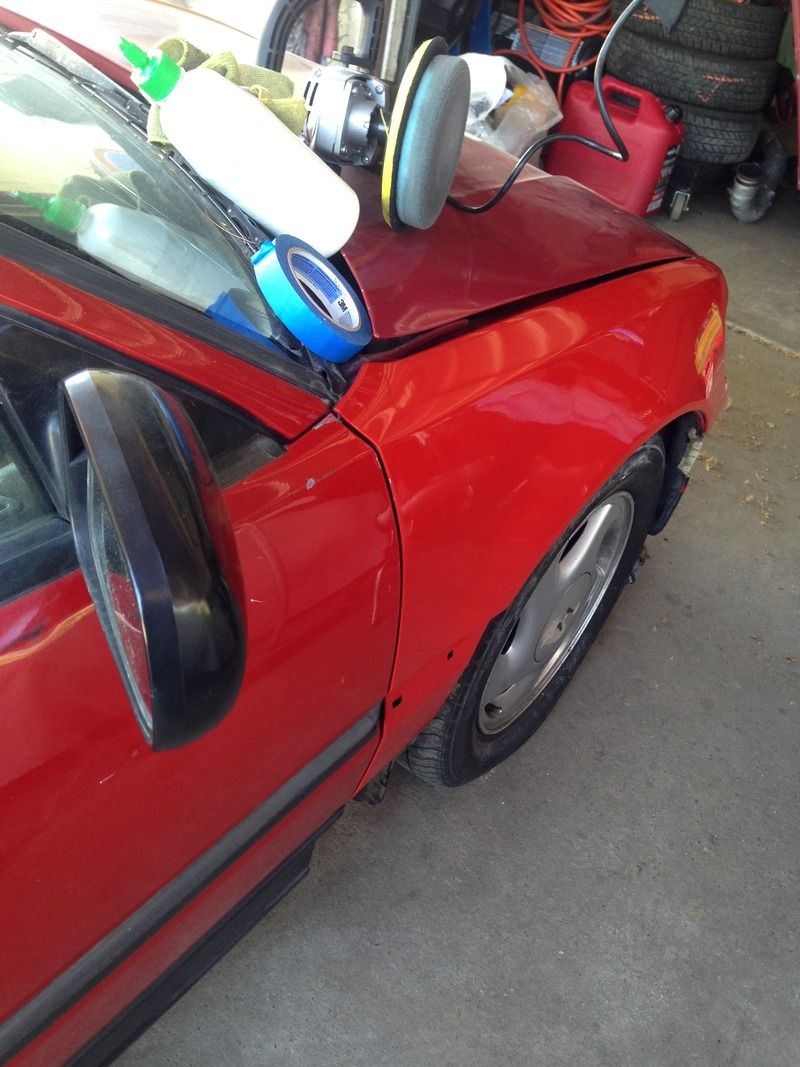 ended one night like this.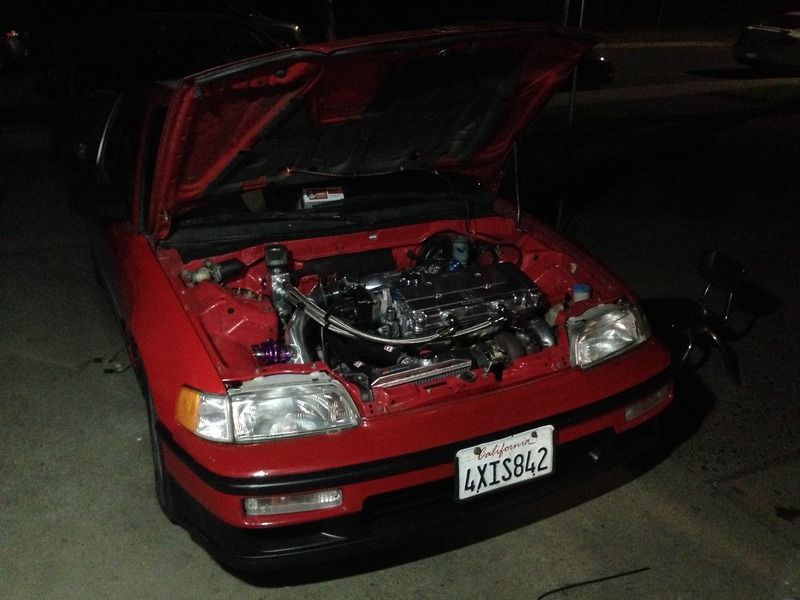 the interior was almost done. when i got the car from my friend, it had German Shepard fur everywhere! like even in the vent! dont really have a pix of it either but i scrubbed the living hell out of it, pressure washed it, dried it, vacuumed it, wasted a roll of duct tape to remove the hair and in the end, i couldnt be happier! cleaned the rest of the panels and fixed the rear board!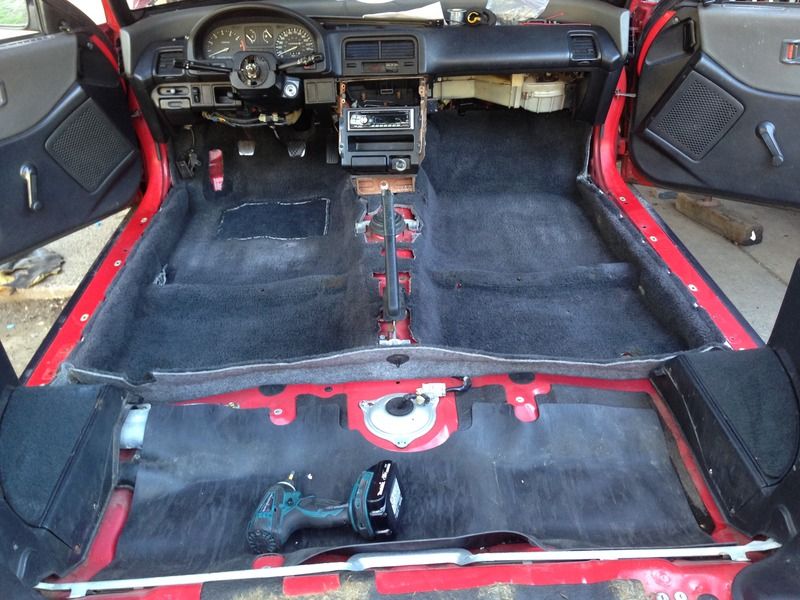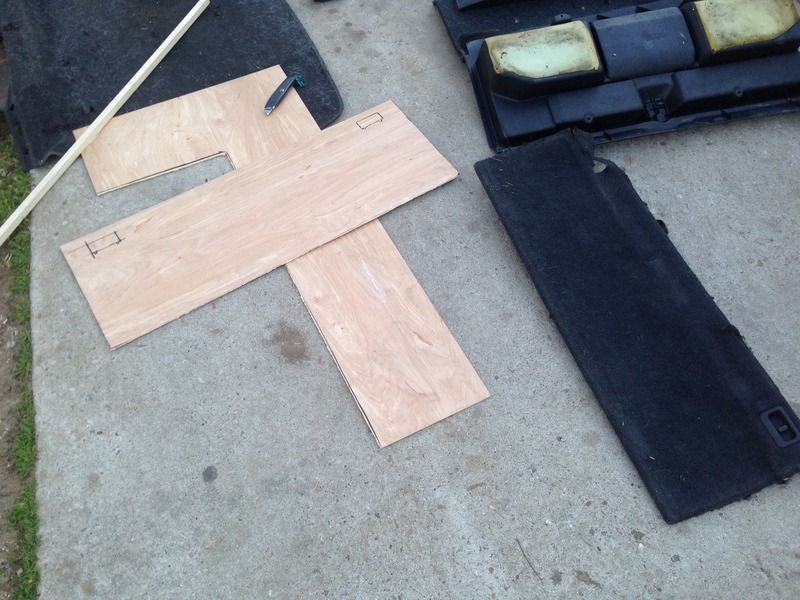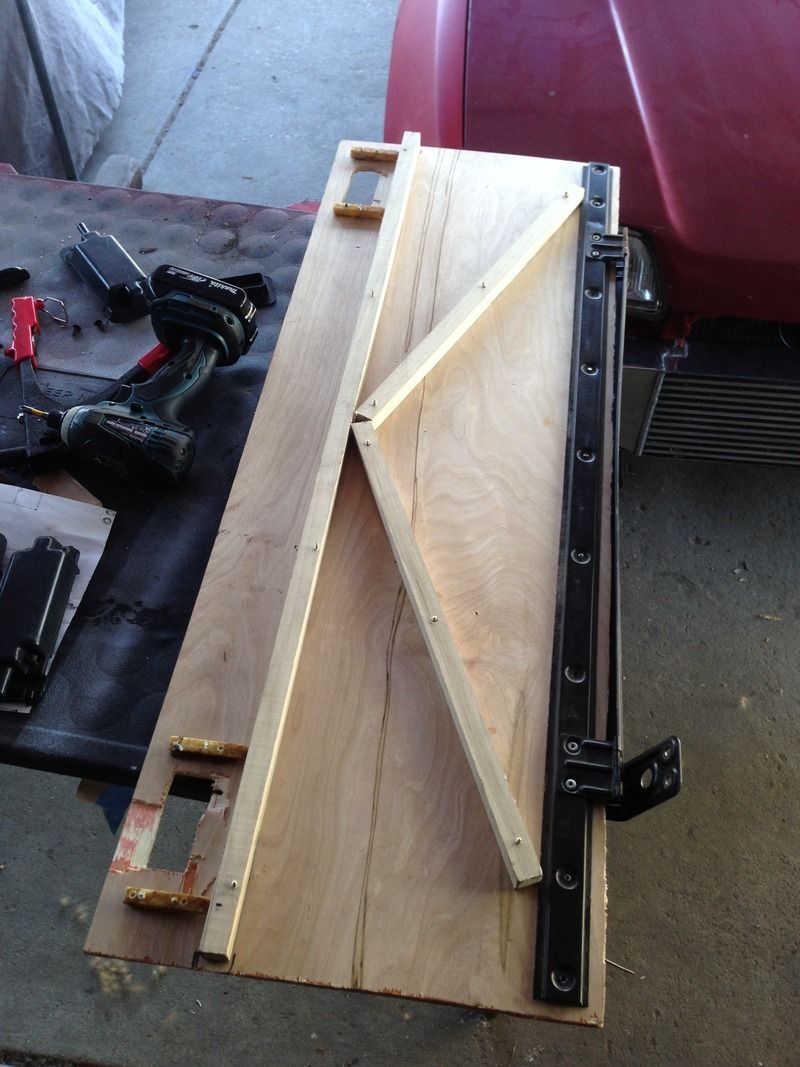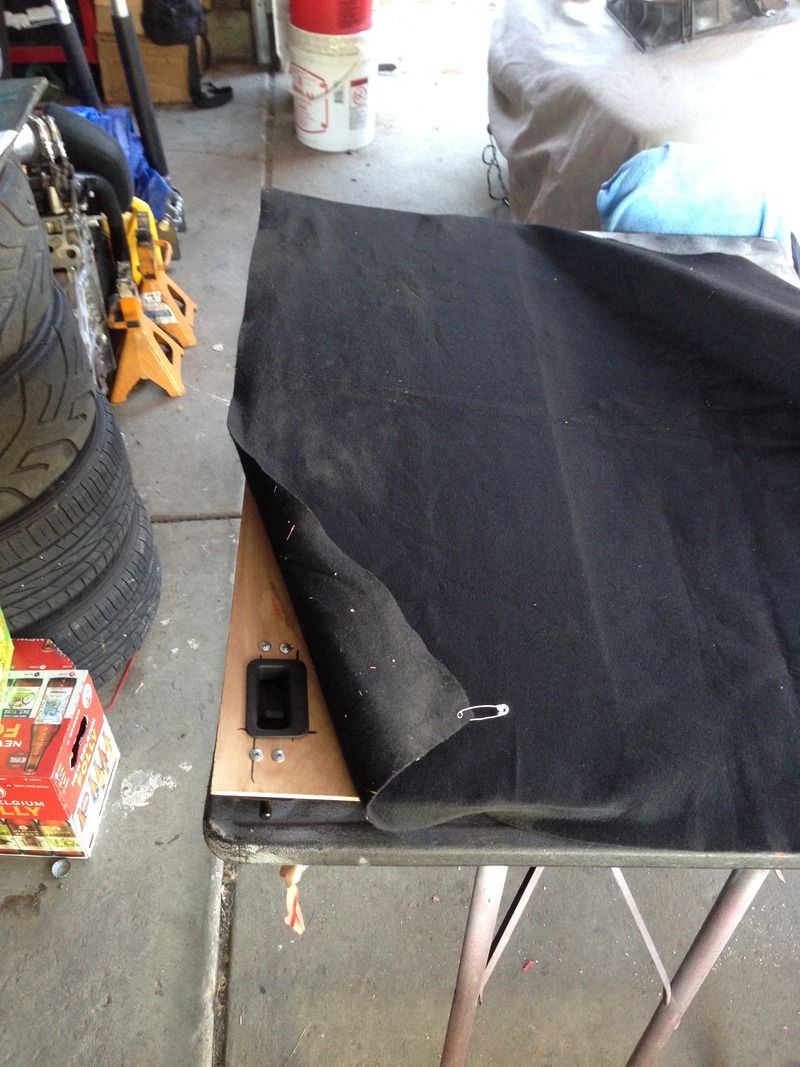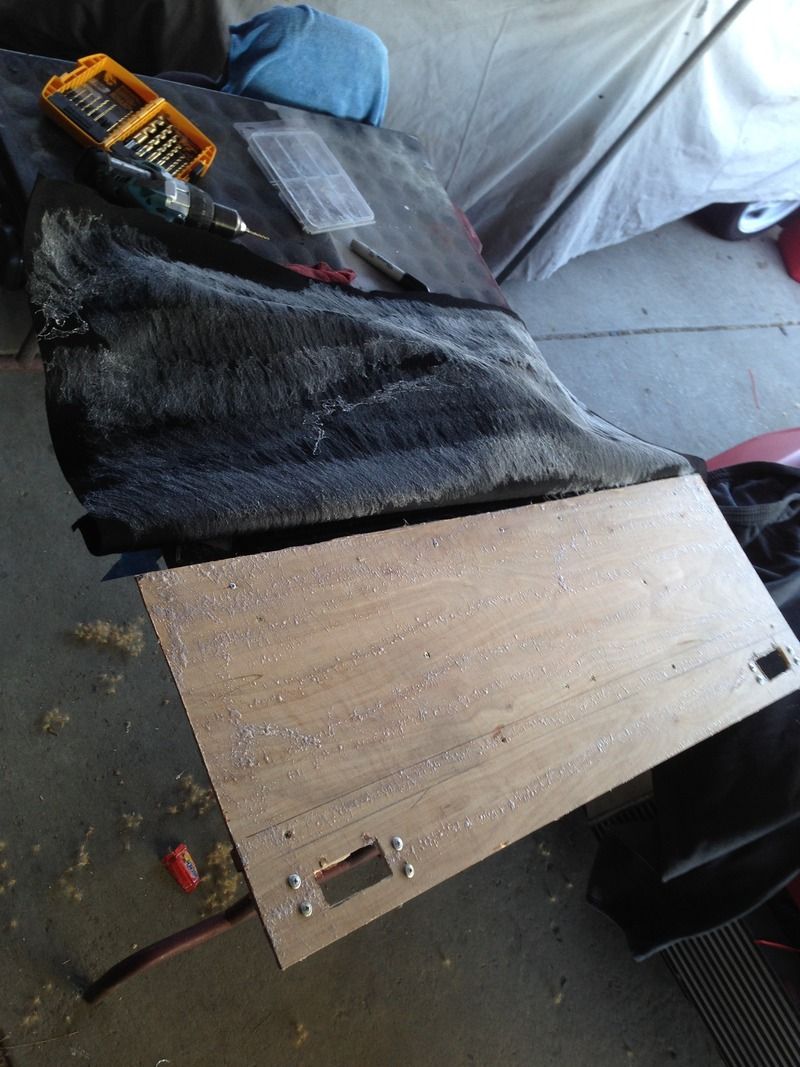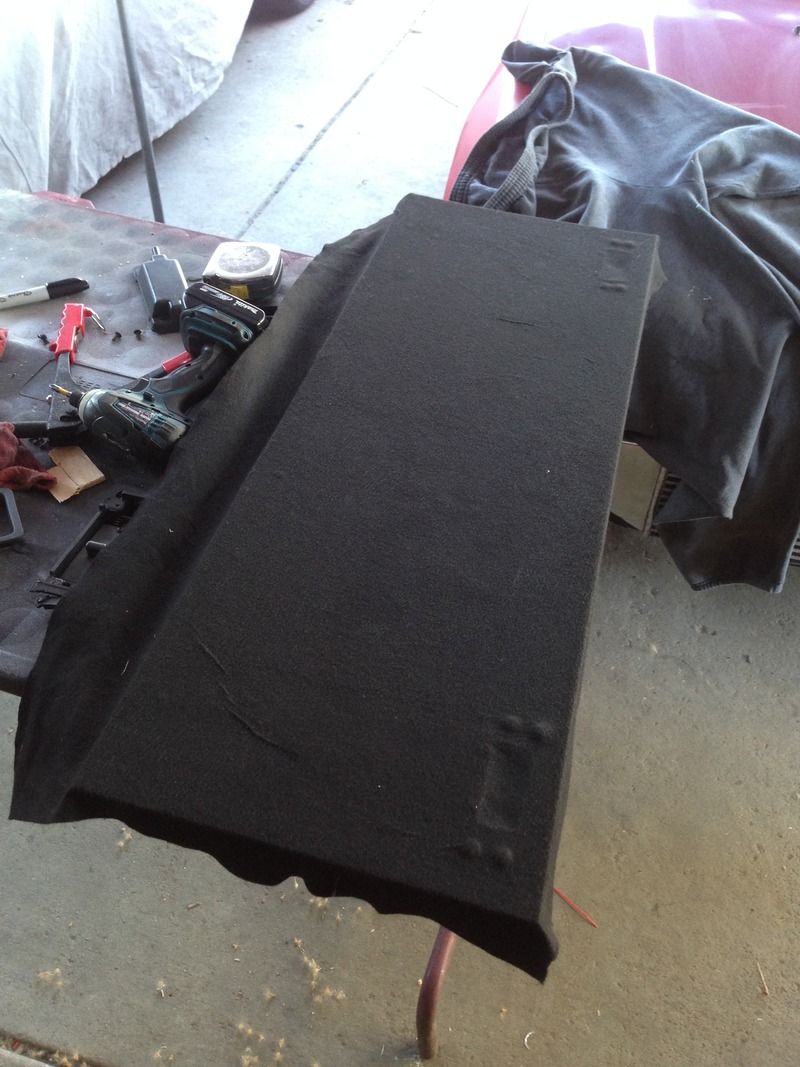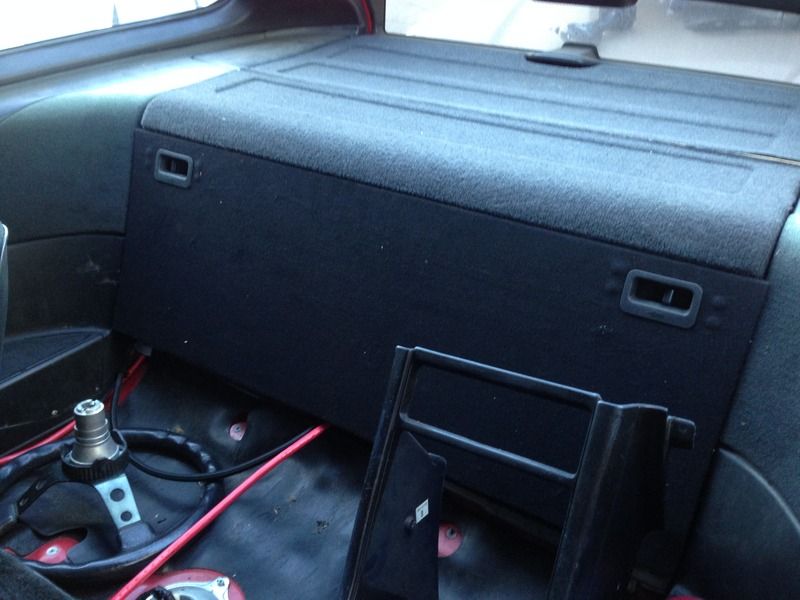 the fur and duct tape in action!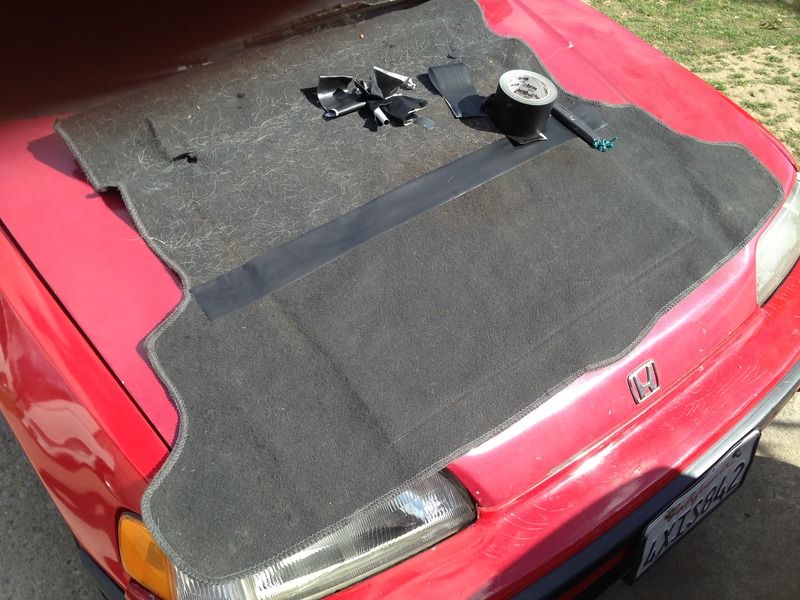 at one point in time i scored the lip, cargo cover, fender and a pair of 90-91 si seats that i stitched up and is currently completing my interior!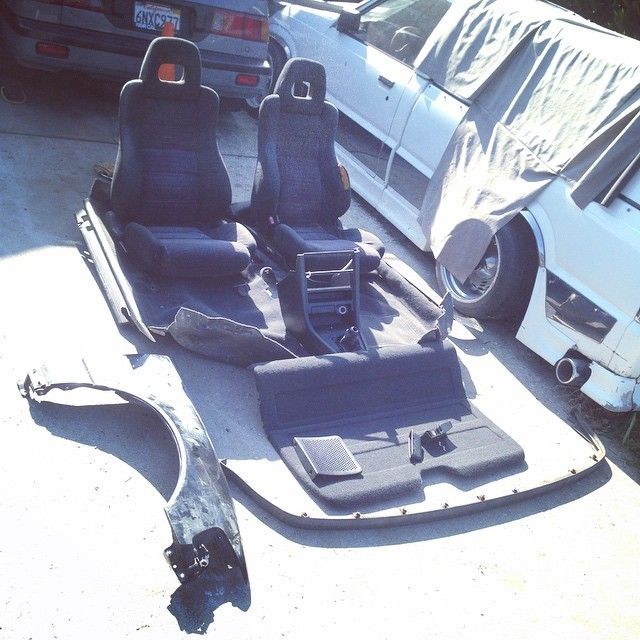 also made a place for my gauges in the pocket section under the stereo. i think it went well. also fixed my climate control panel..piece of crap.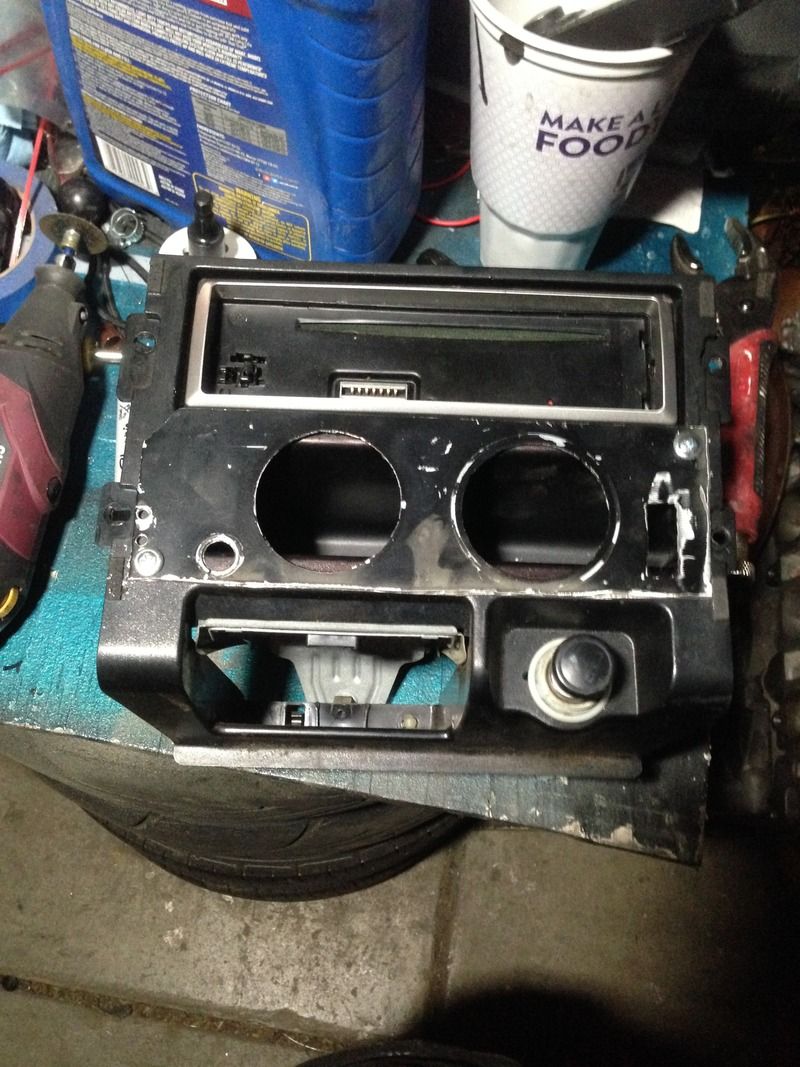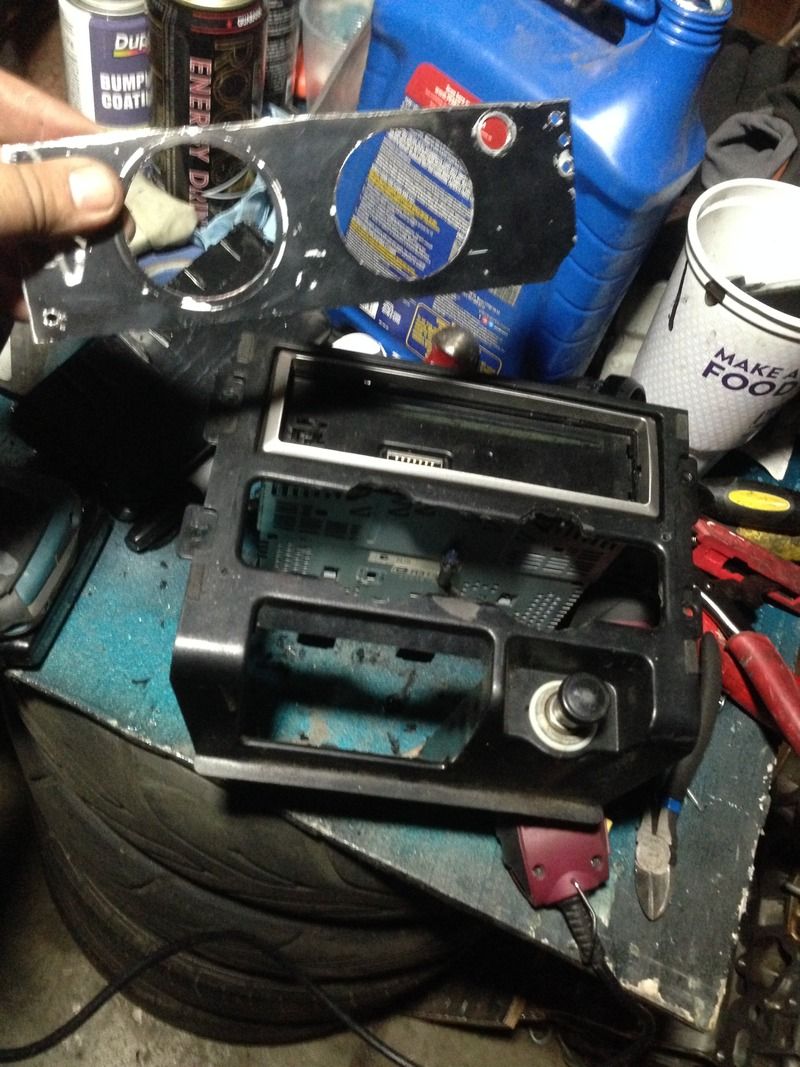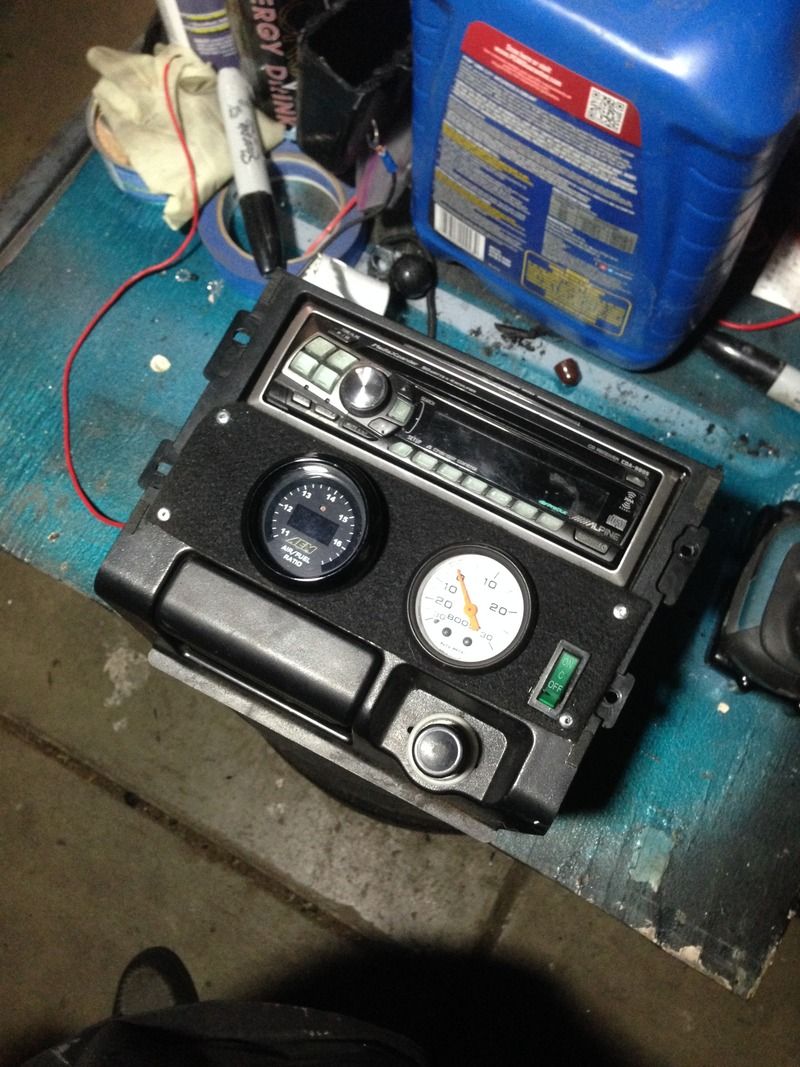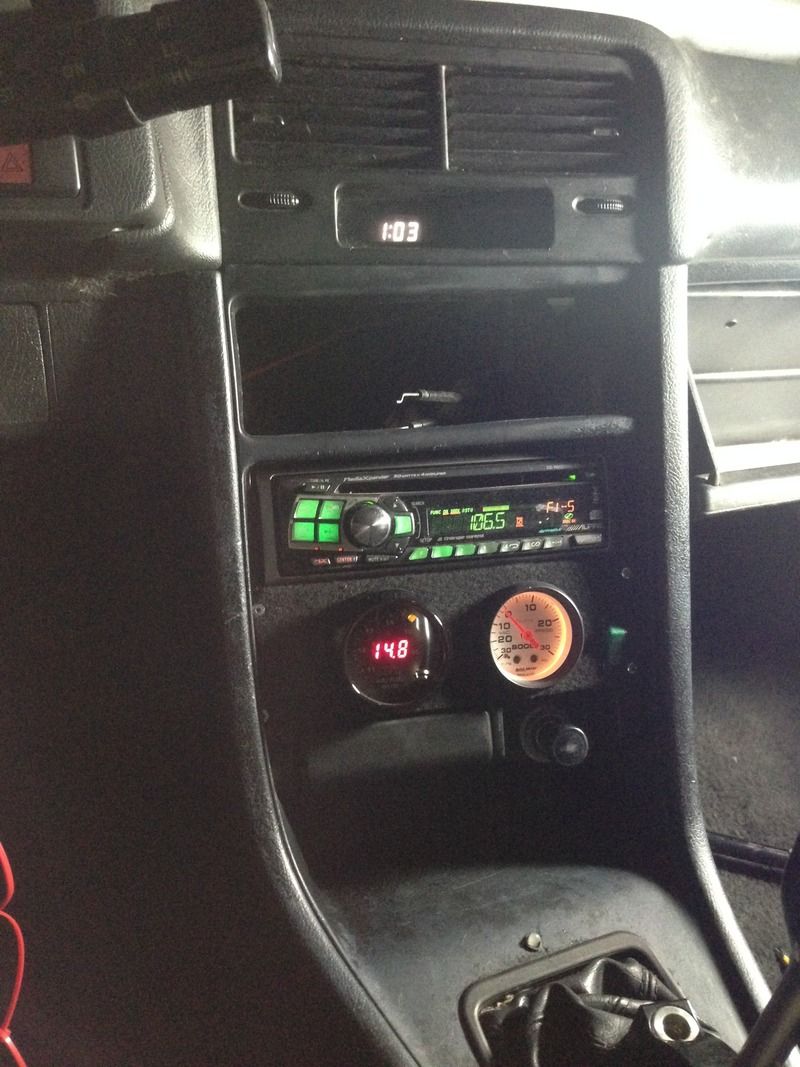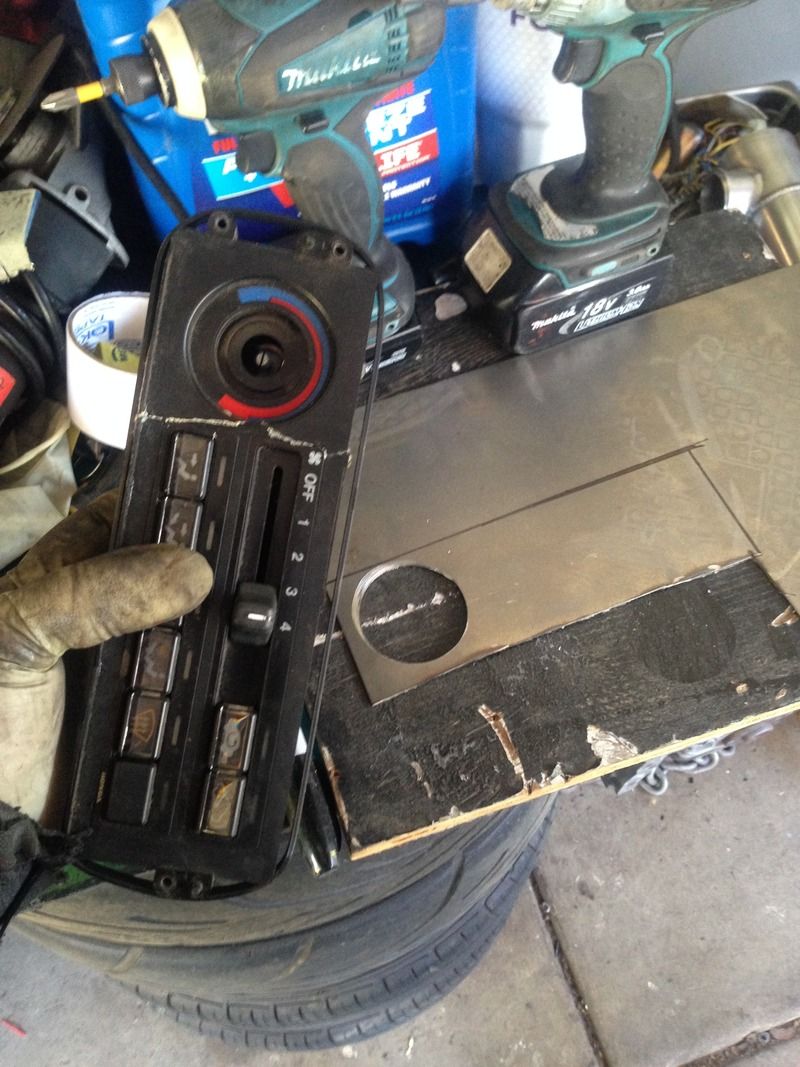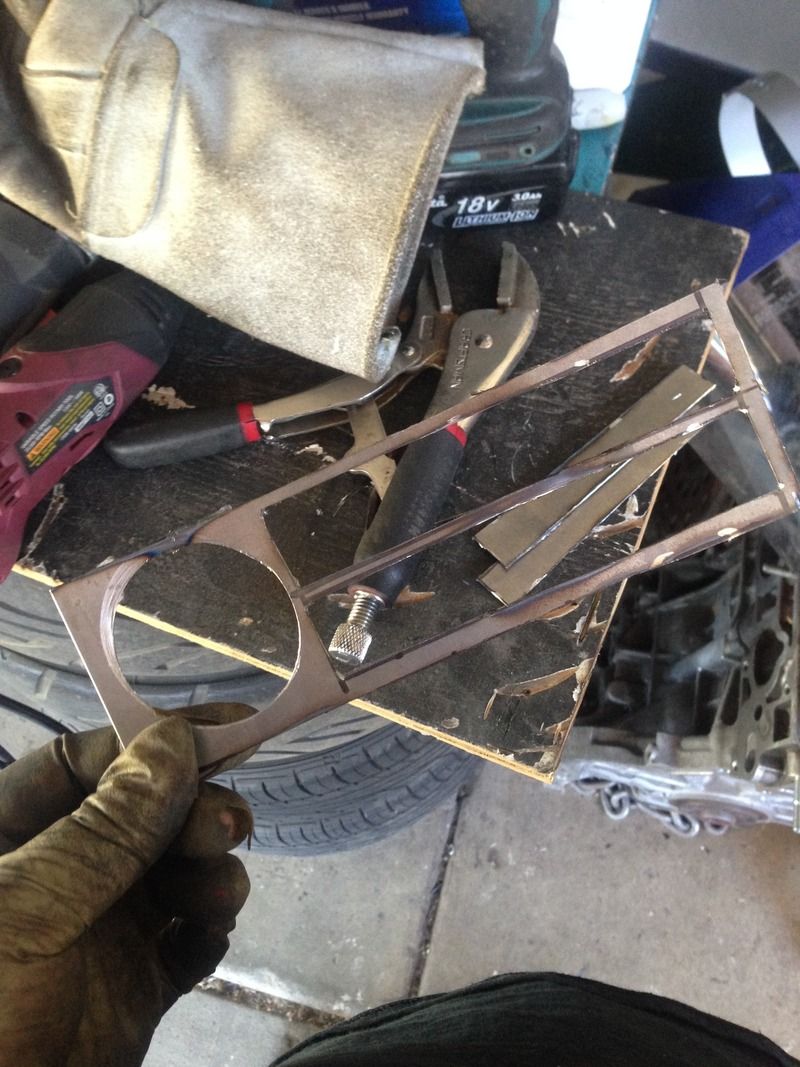 got my exhaust. we are now nearing the end of Feb car is running great but open down pipe. here i have my 3' trubendz mandrel exhaust piping and my muffler of choice is the Vibrant Street Power black exhaust single 3' in and out. talk about a very quite setup for this turbo "sleeper" love it!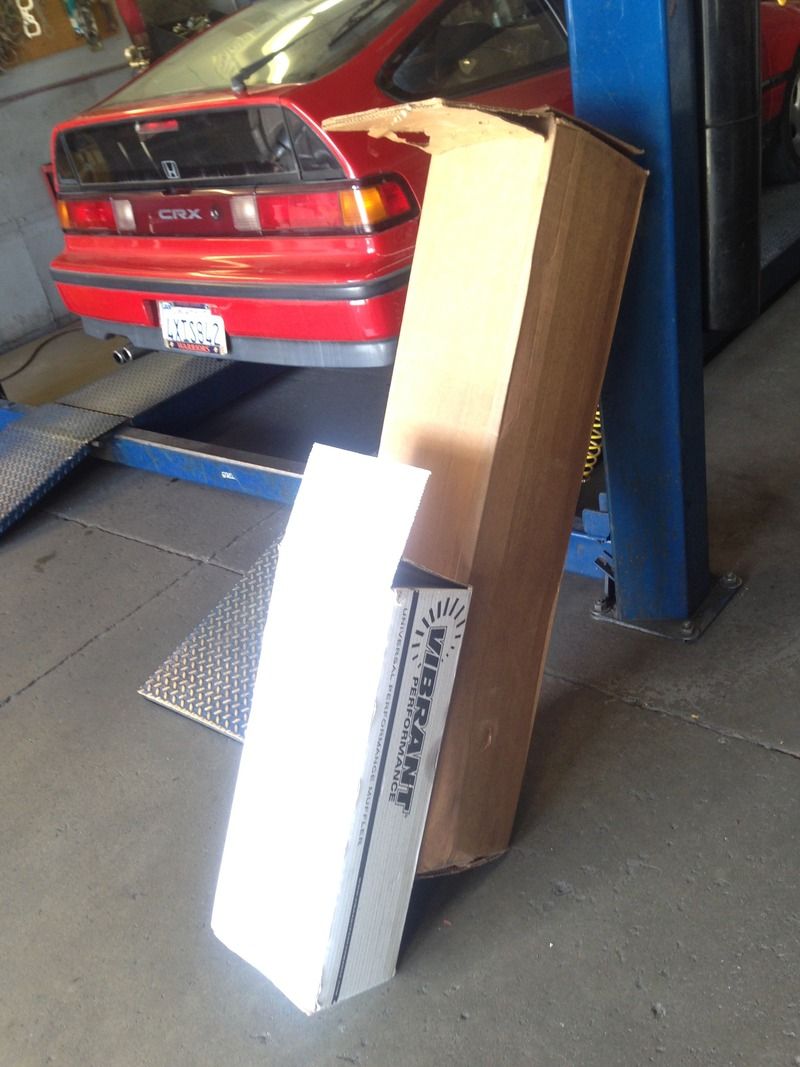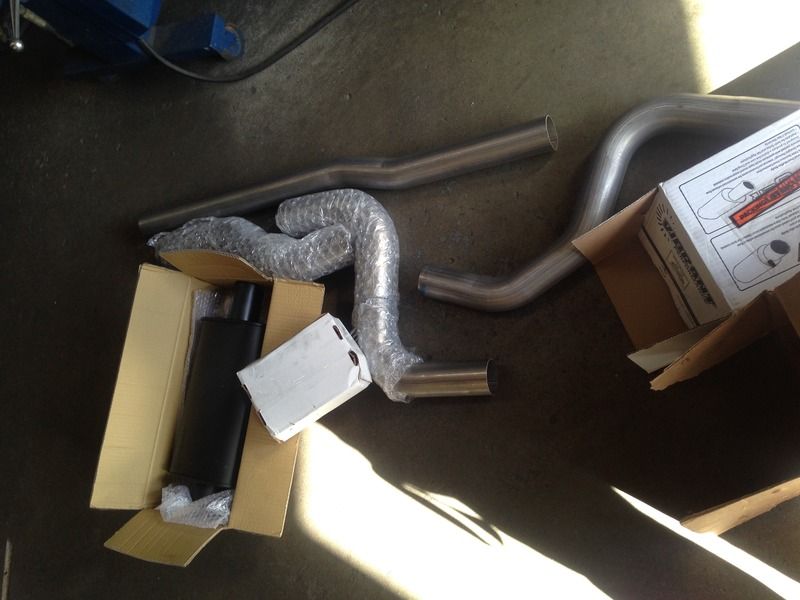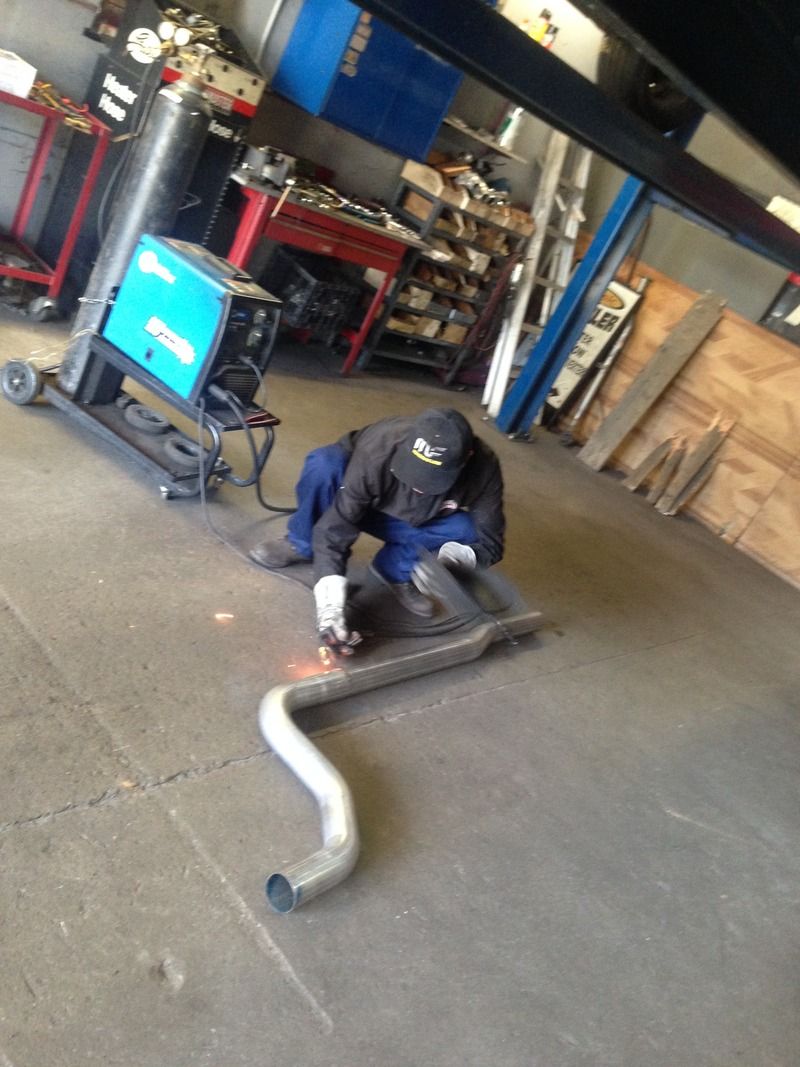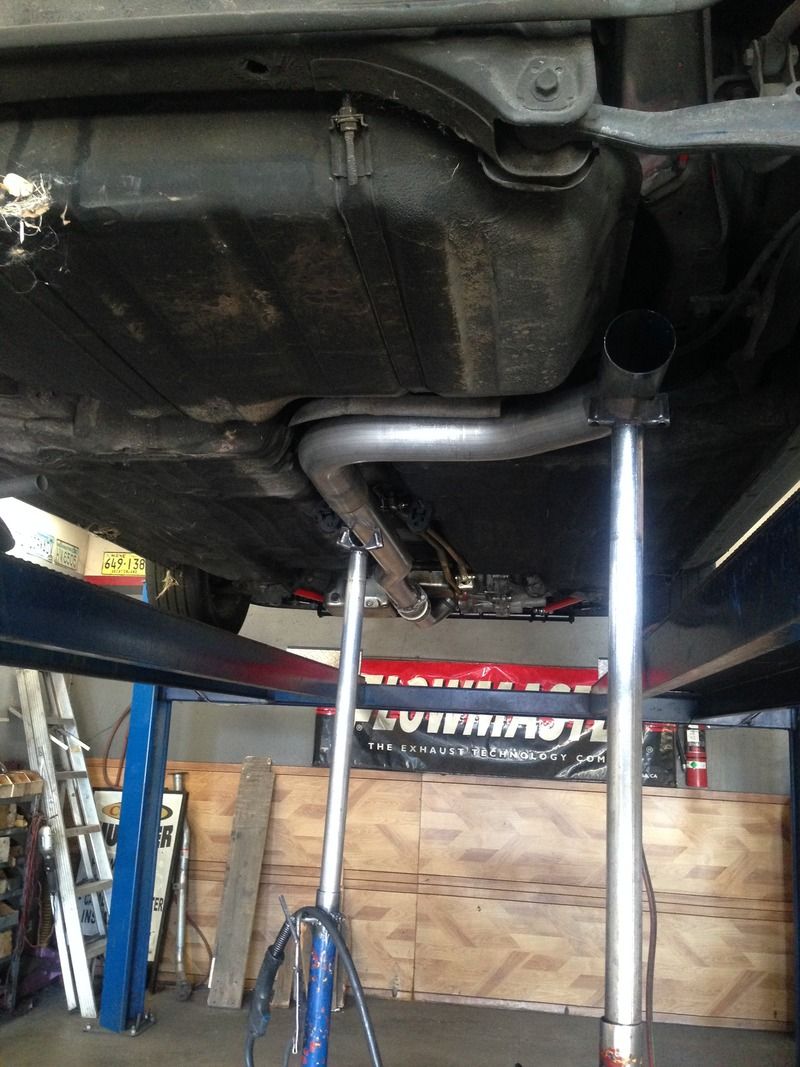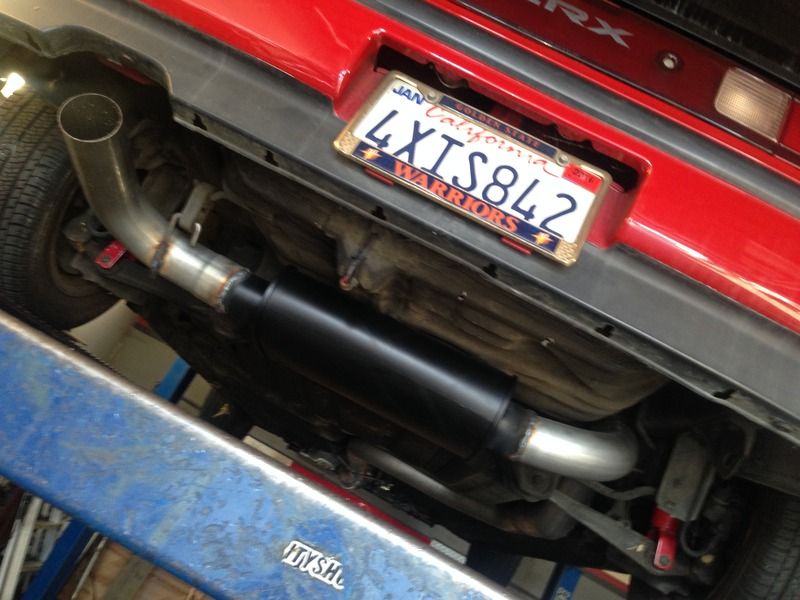 changed out my rear hatch strut with o Reillys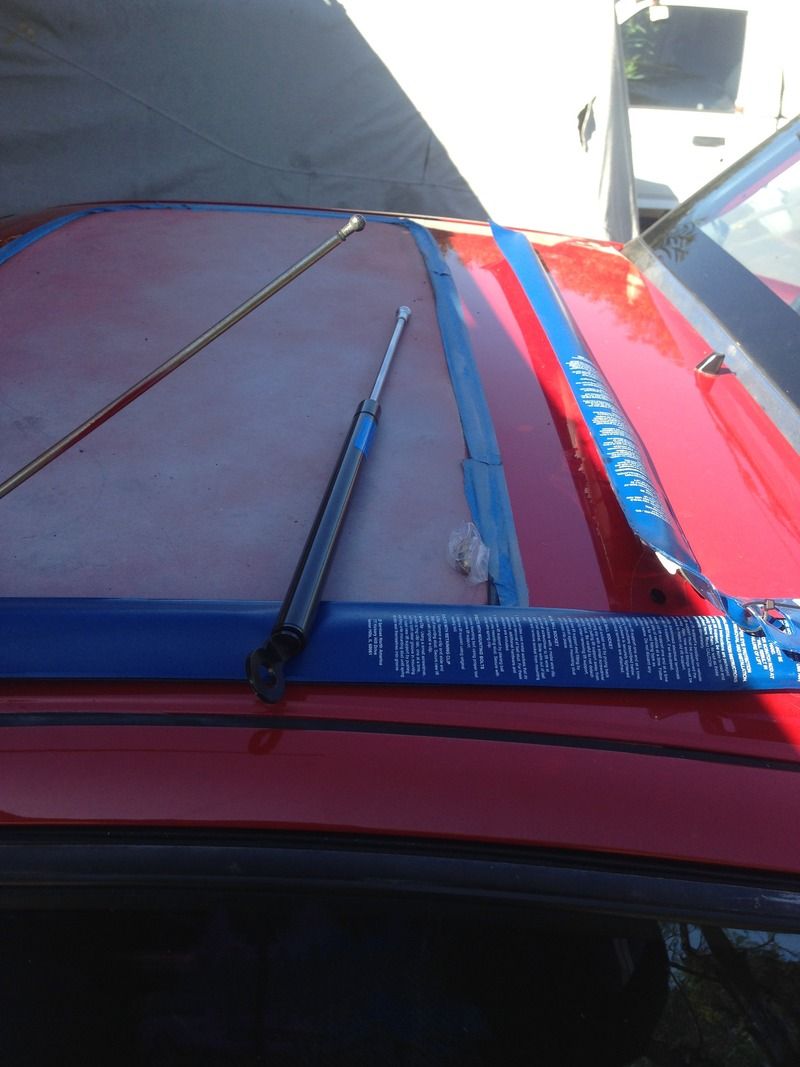 got the rest of the trims painted after the new windshield replacement. they took care of the rust and treated it at no extra cost!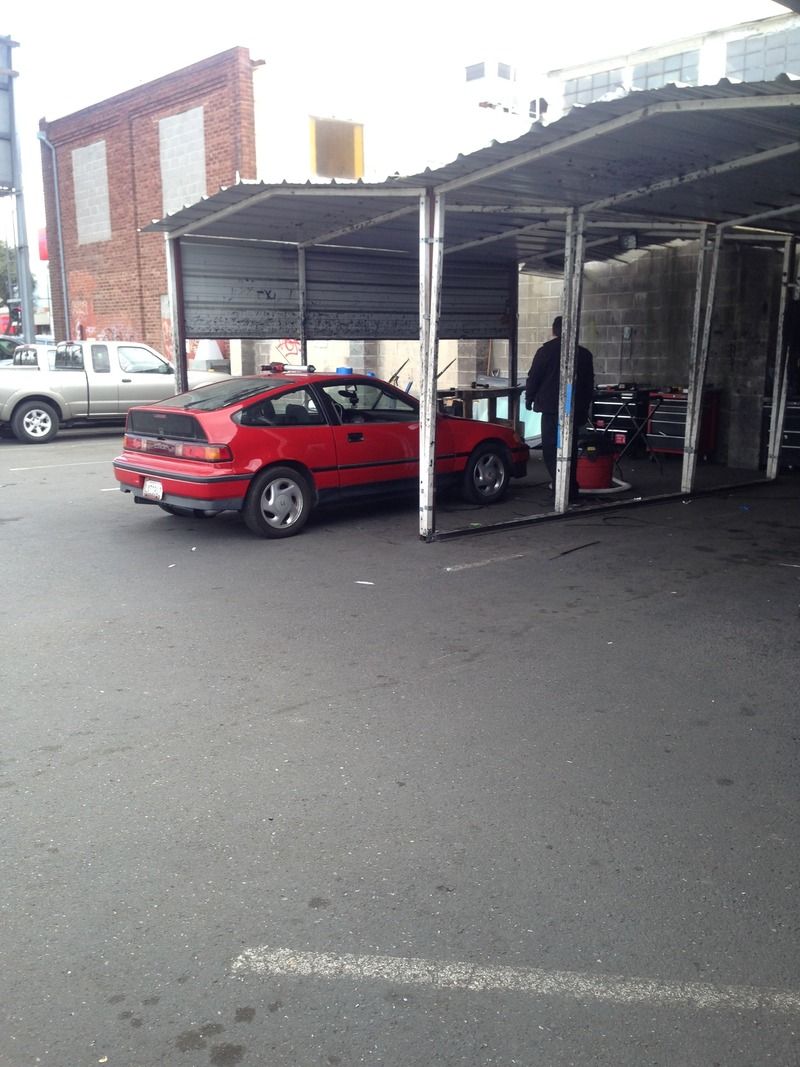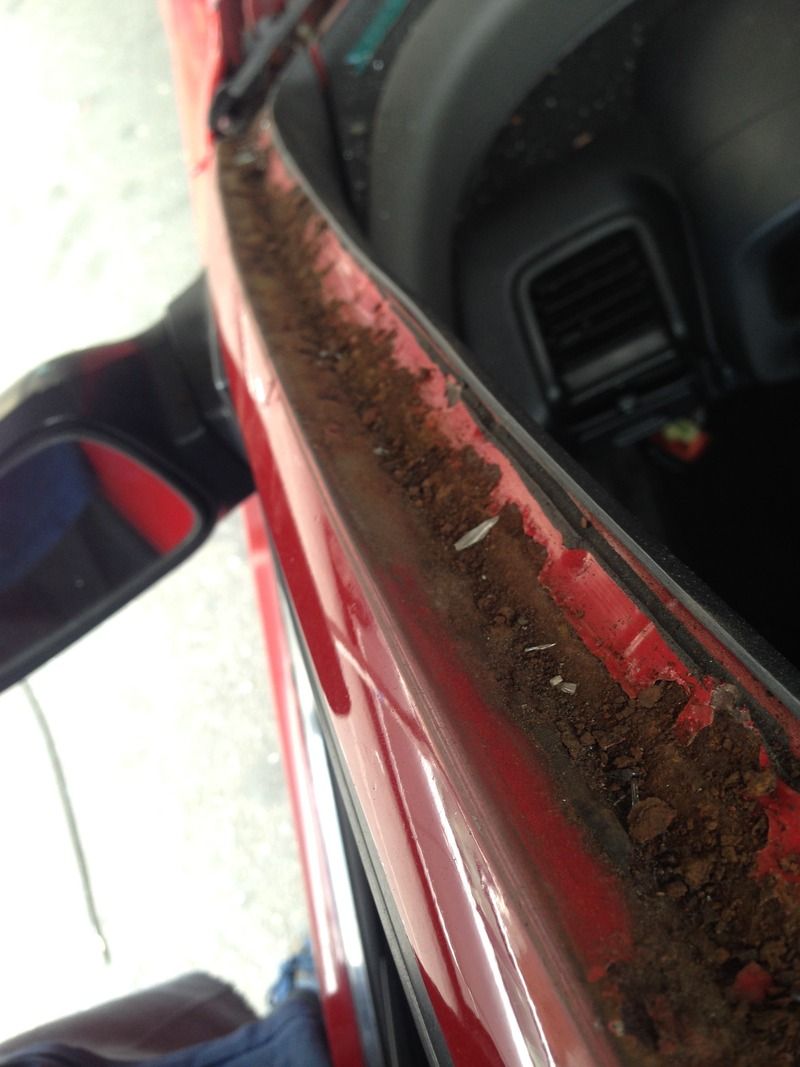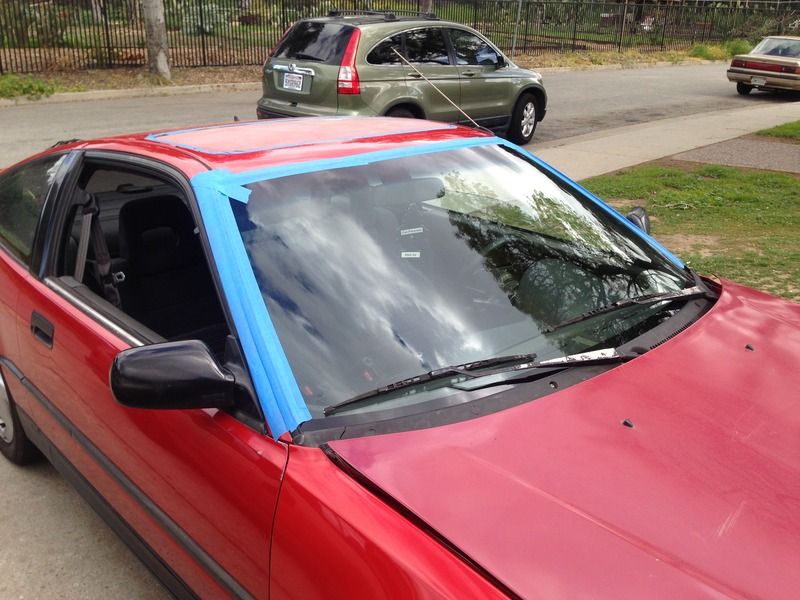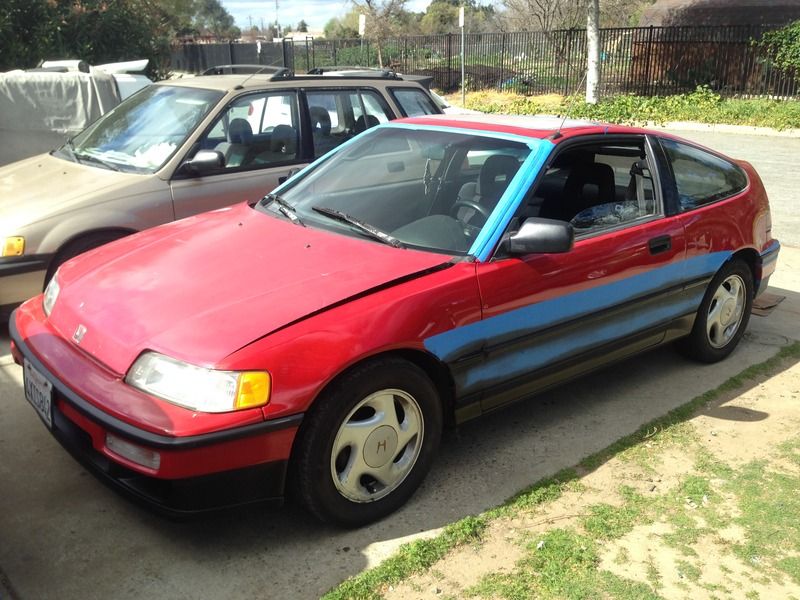 after all said and done, the car is registered, insured and is being driven on the daily. March 1 (the reason i built this car so fast) i took it to CMI March Mayhem in Sacramento California to race!! drove the car 125 miles to the track. the Name DEEP SLEEPER came about because my cousins car is a 98 civic sedan all stock exterior plus wheels and has full suspension equipped with a built 1.8 lsvtec that runs consistant 13s with full interior. it was also driven to the track. he calls that a sleeper. mine is considered a "deep" sleeper to them because my car is like an all original crx Si with si wheels and its full si interior. i decided to paint my intercooler black and with the choice of my exhaust system, its fairly quite and most people didnt know it was boosted or what so ever. the only thing that throws it off is the stupid hood prop. i had to do that temp. due to the hood hitting my valve cover for what ever reason, even with the webs cut!!
but aside from that..i thought the name suited it well. as i rolled up into the line as this stock crx..i went around and threw my track tires on that had people question me haha. it was awesome.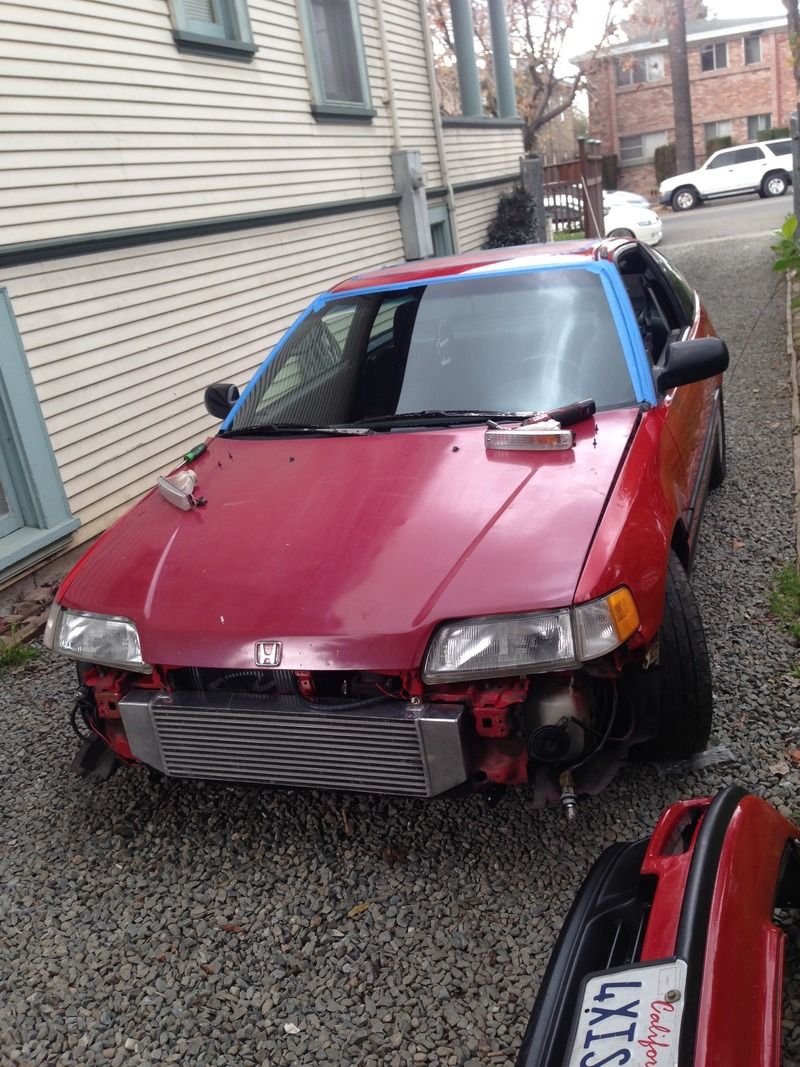 hotel
arrival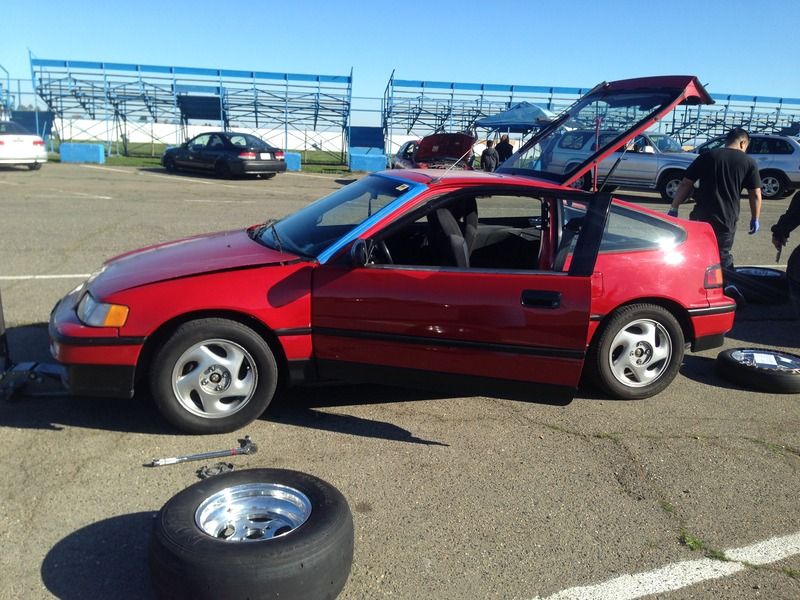 our line up 3 of 6 crx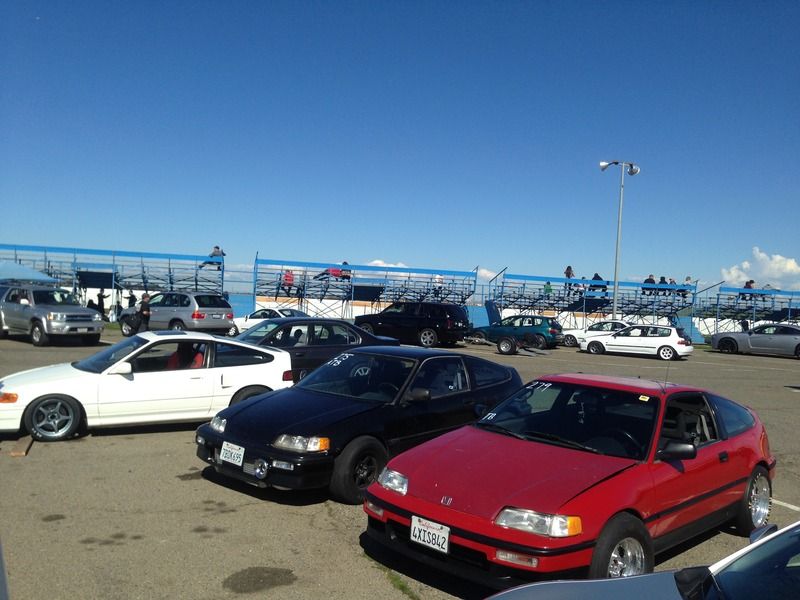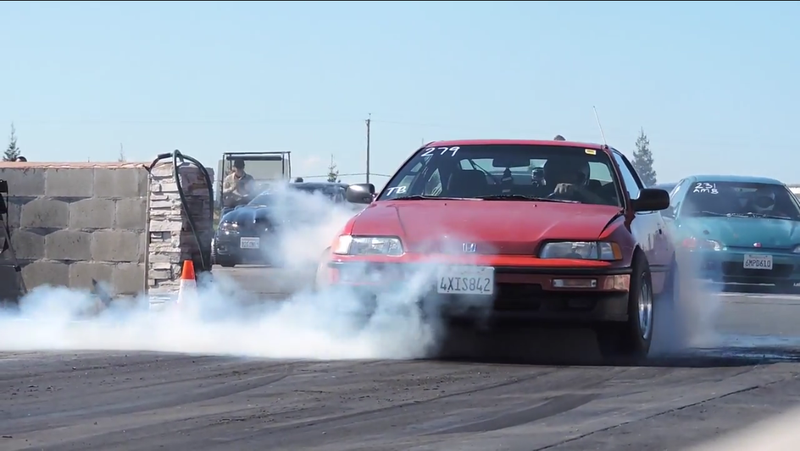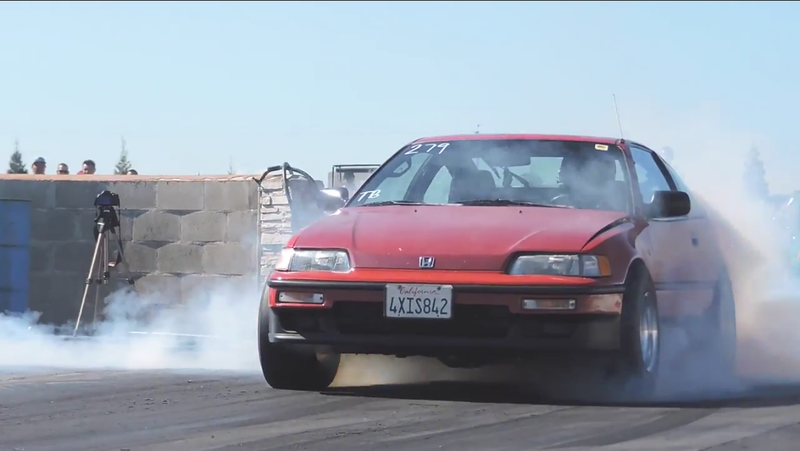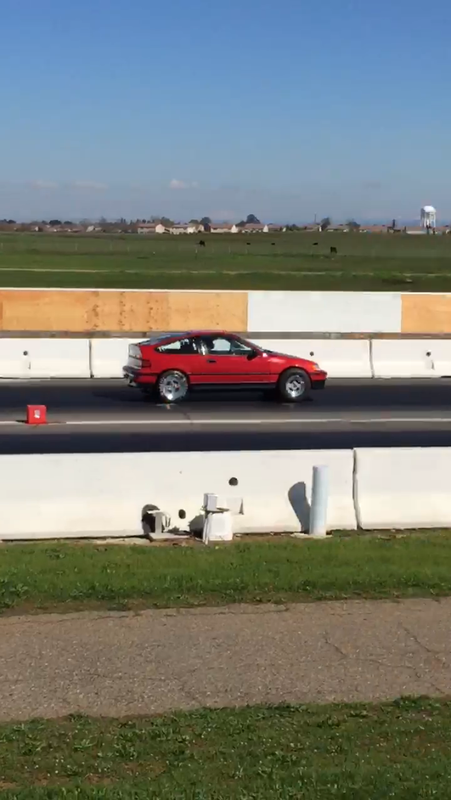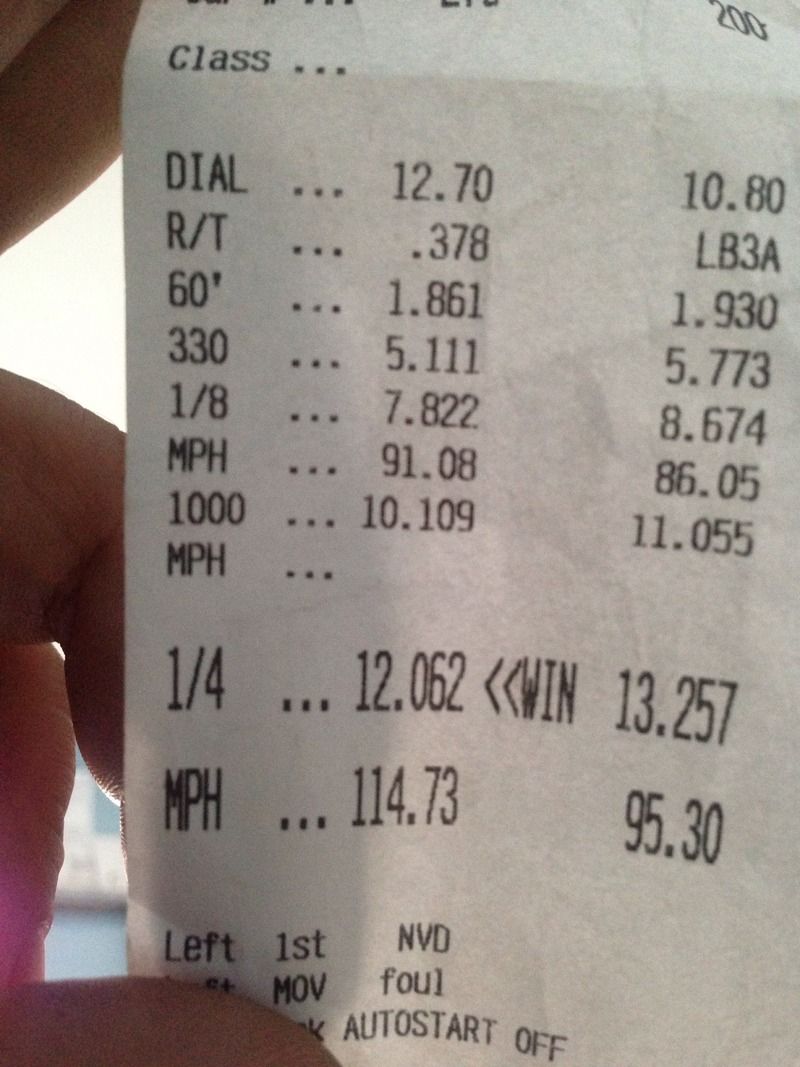 at the end of the day, i was more than happy with the results of this car! it went the fastest a 12.0 with full interior! with many more roof for improvement! it was also on a stock LS cable trans non-LSD haha. but i will be back out in april looking to get into the 11s. i threw my wheels back on. put my tires back into the car and we headed up. daily driven race car eh?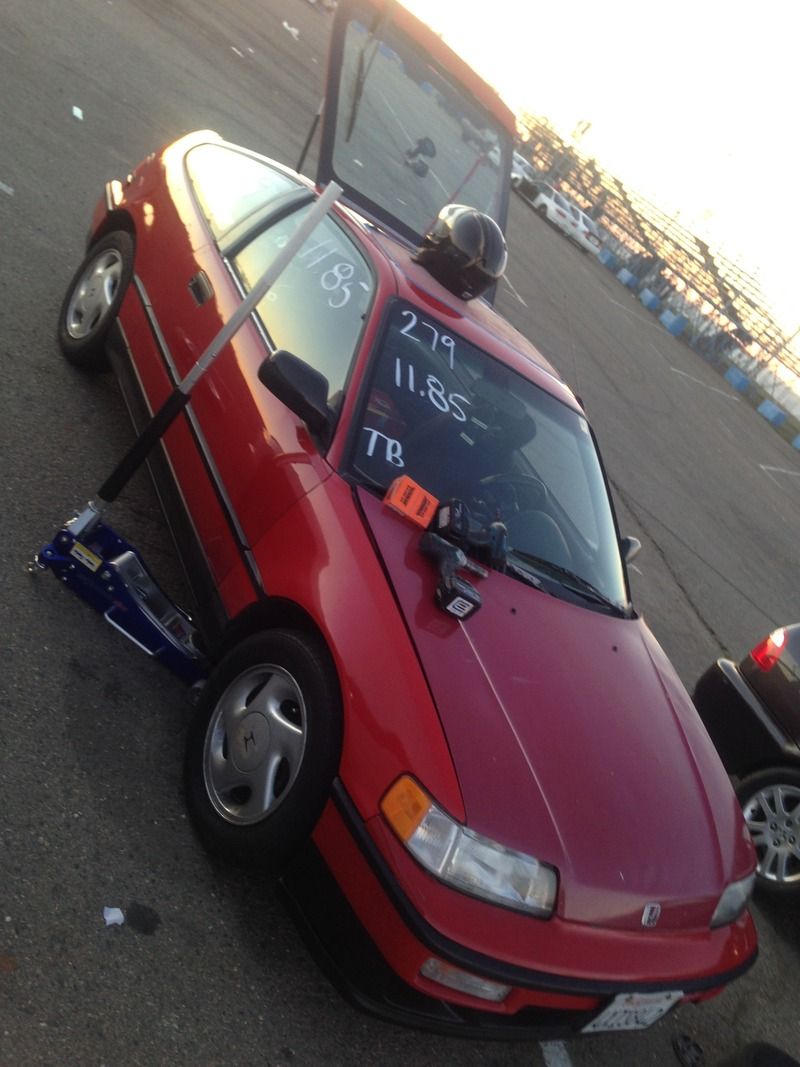 as i left i heard this ticking noise but i tried to ignore it for the 125 miles back home. it made it safe and drove wonderful. but that ticking had my curious. did a compression test. Good. Leak down test, Good. rod knock test, Good. did a valve adjustment, Good. but the noise was still there. so i went ahead and changed my lma to skunk2 Spring style. upon doing that i found out my cam gear is broken! after 10+ years i guess its time to retire the STRs. also when putting back the timing belt i notice my tensioner isnt properly placed on the stud that its suppose to sit on. fixed all those mishaps and the noise is gone. not knowing what caused that ticking, but its gone and im happy.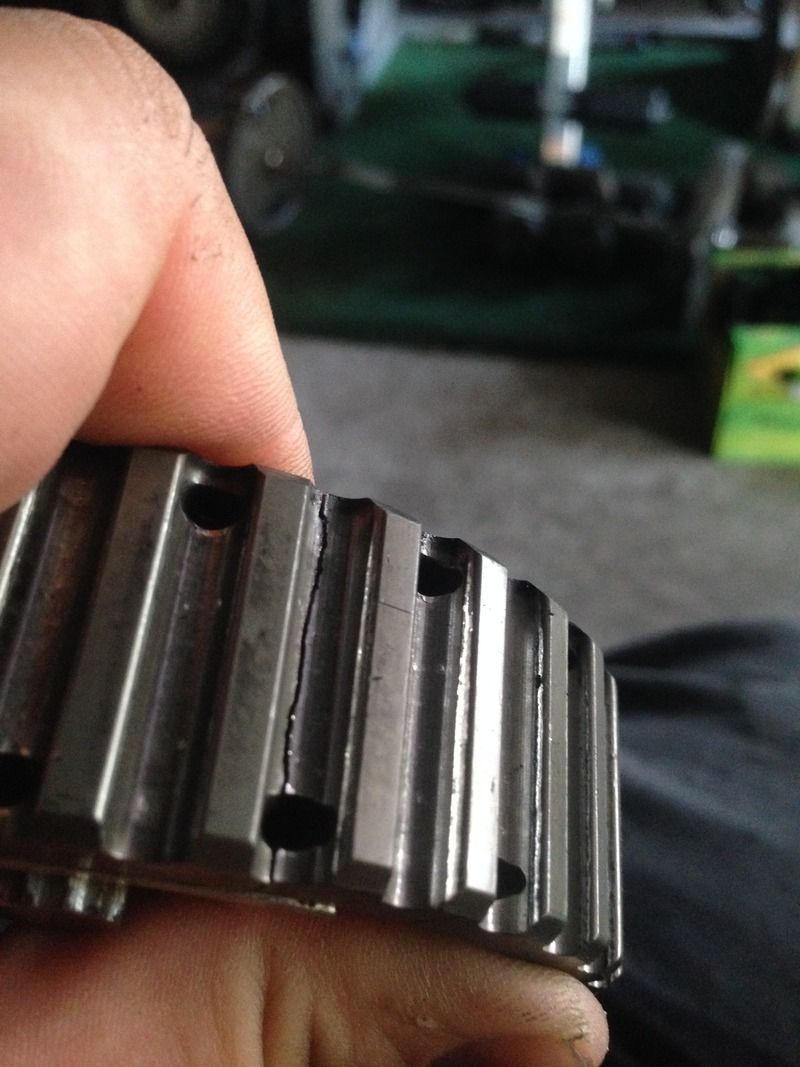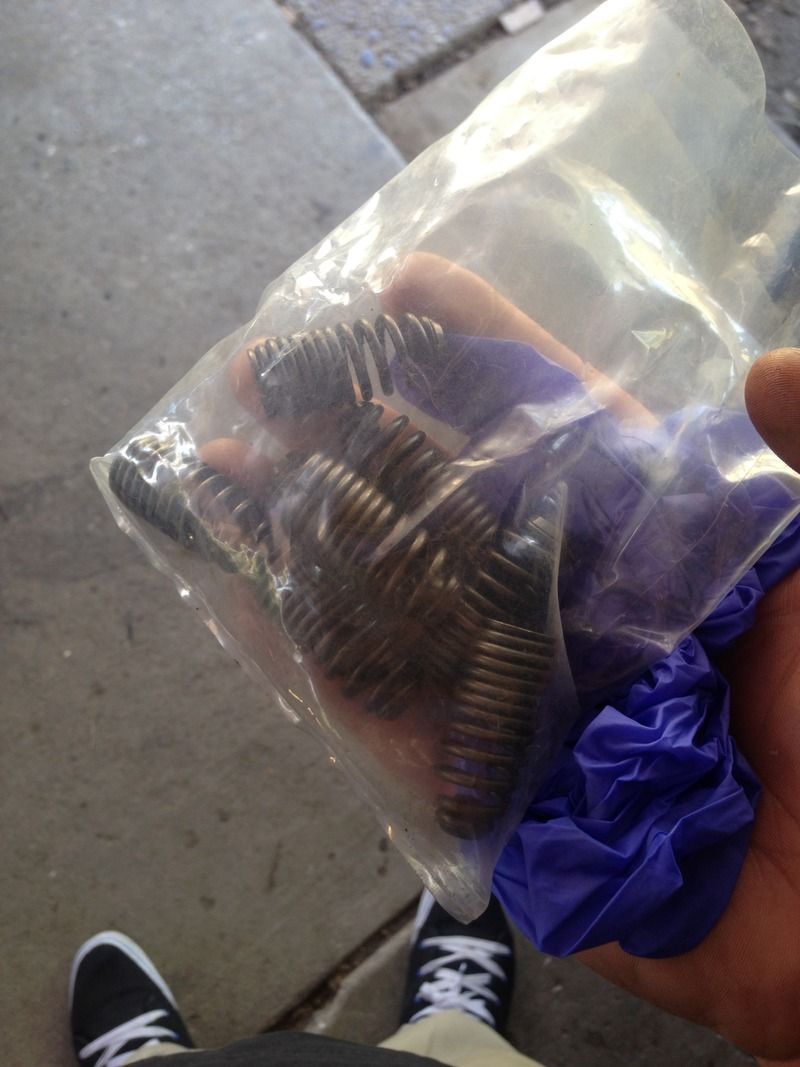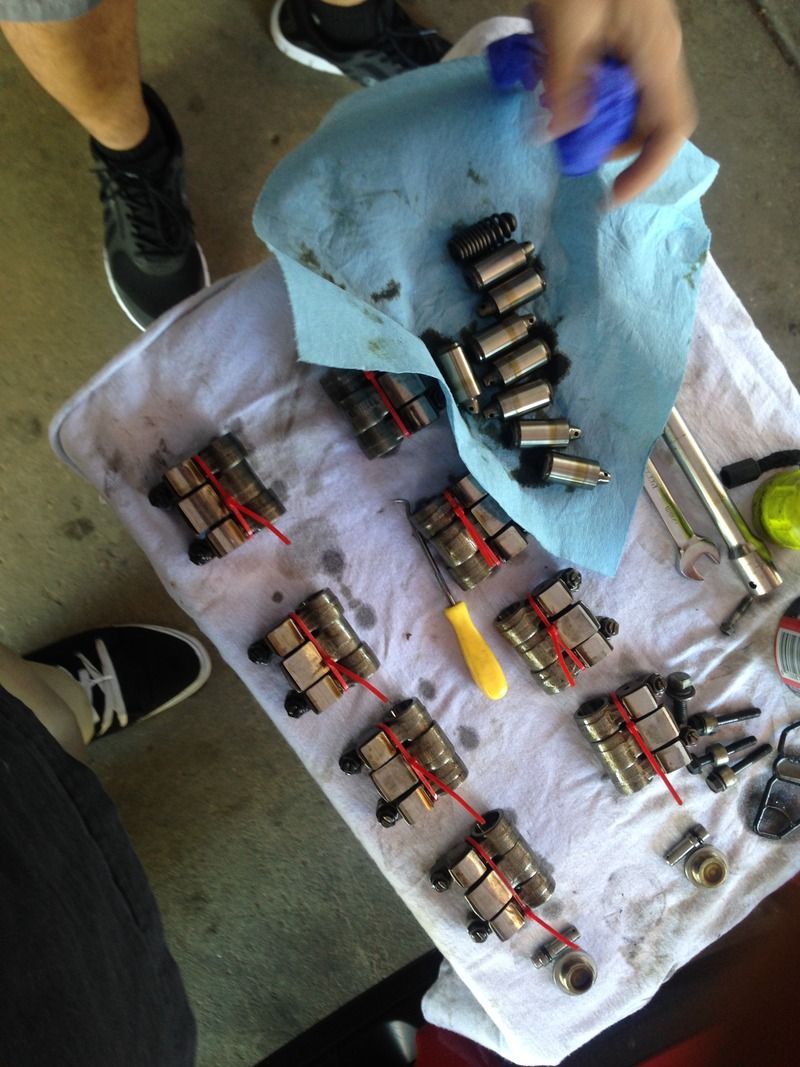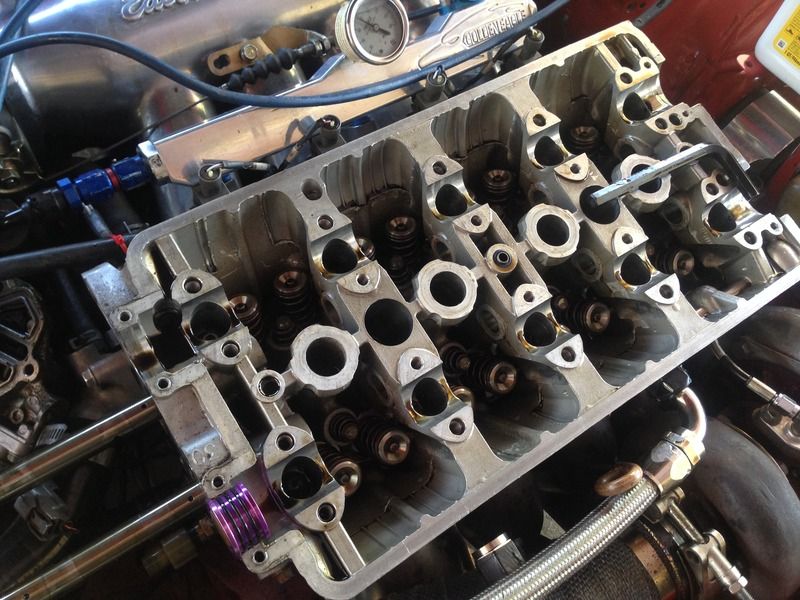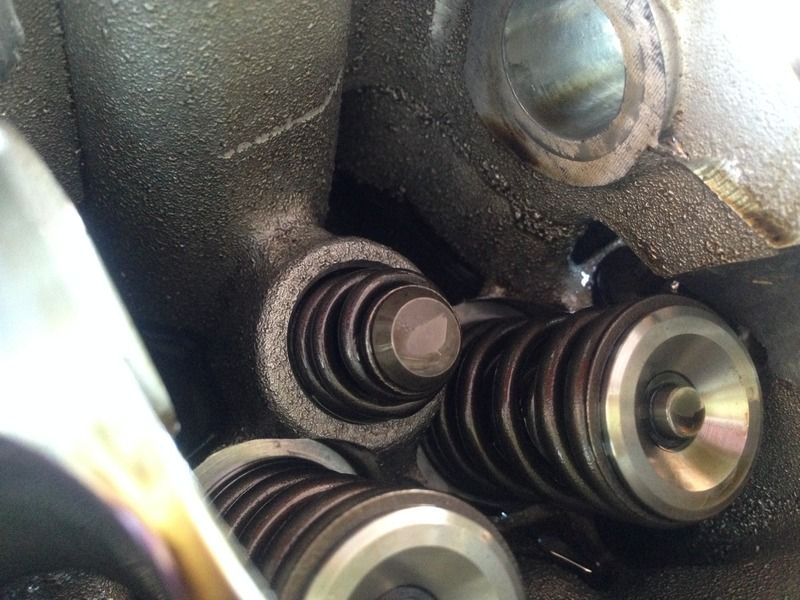 i am currently working on a gsr trans with lsd as well as the hushperformance hydro conversion for the car and Here i am going to close off this first post with me sitting in front of my car! ENJOY!