Hey everyone, just wanted to document some of the mods I've been doing and the direction this car is going in!
MY CARS COLD DARK HISTORY OF HACKNESS
I Should start off by pointing everyone that a lot of weird mods were already done when I received the car. It had a junkyard setup lsvtec with gt28r and some [crummy] log style manifold! The motor was basically cooked! The car had some sketchy home ghetto garage boost controller setup, and was running a home fabricated traction bar that caused the car to push like a mother**** in Corners!!!! The car was supposed to be a write off from hail damage but I purchased it in order to save the title! The car is beautiful and has next to no rust at all!
I knew exactly what motor I wanted to use which was my Built N.a all motor b18b with balanced rotating assembly itr pistons and a fully built b18c1 gsr head, 7 angle valve job, ported and polished, skunk 2 pro 1 cams, omni valves, valve springs, and tit retainers! Chopped and 70mm port matched to alpha throttle body, and deploying the symphony with a Toda Header!
But once we put the engine in the car we realized the 1.8 litre bottom end was no longer good from sitting so long in storage the coolant expanded and separated the cylinders! (Ontario condensation BULL****
!!!
Anyways I decided to go 2.0 high compression jdm b20b from Jdm Source in Calgary since I moved to Edmonton. The block was Very clean and I ended up laying down an impressive 198WHP on the dyno, stock bottom end with the built head on pump gas! LOL mind you i needed to replace the distributer because it was causing misfire, and my itr header was on the car restricting exhaust flow!
SOO My plans this year for the car are to
~Fix Hail damage Work on body and paint (creamy beige .single stage)
~purchase either progress or ASR rear sway bar
~Find a Solid Distributer company that makes obd1 dizzy high quality
~Install some bushings I have sitting around and some adjustable camber front / rear!
~Purchase Toda Header Install to 3" Electronic Cutout that goes to a 2.5" exhaust with a Spoon N1 Muffler (already have)
~upgrade brakes with my brembo rotors and ebc red race pads!
~Touch up the Dyno Tune and shoot for around 215whp
~Prep the spare 2.0 block for disassembly and sleeving! (eventually going high compression race gas)
~I also need to look into bigger Injectors because my RC 370 are topped out
~ Also looking into roll cages but probably not for this Year
Here are some pictures of the car throughout the build process
This is The Interior when I first got it! Pretty Clean In all Honestly just Missing a few components!
This is the outside, it was really clean no rust just a [crud] ton of hail damage which I try to avoid showing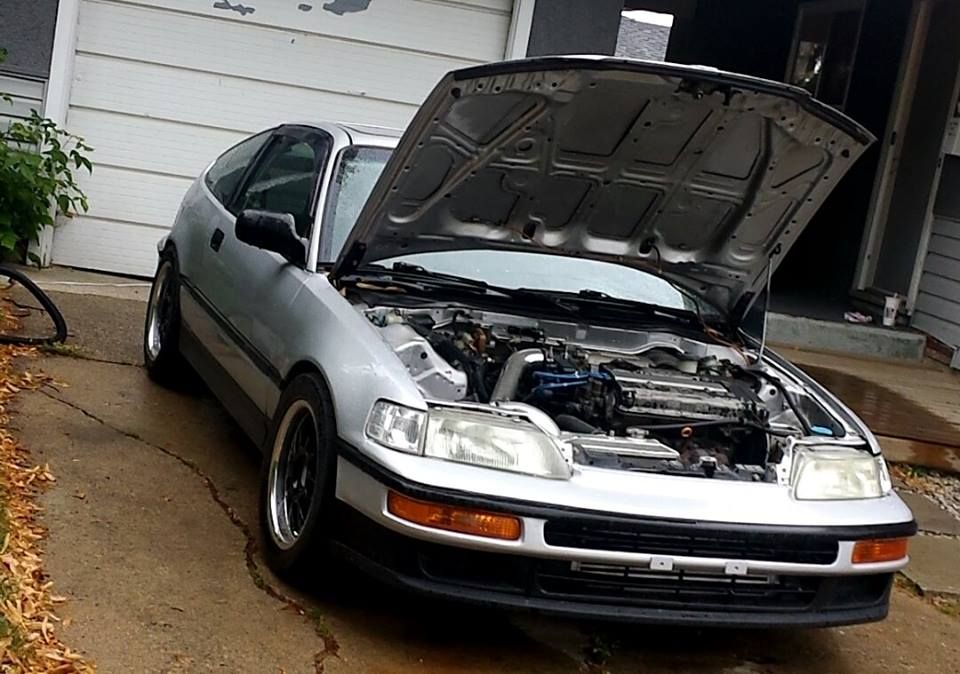 The Crusty Home made Turbo Kit on a stock Lsvtec!
Durring the Disassembly of the Turbo Kit and Taking the Engine out!
Some Head work on the Gsr Head