I'll start with the results.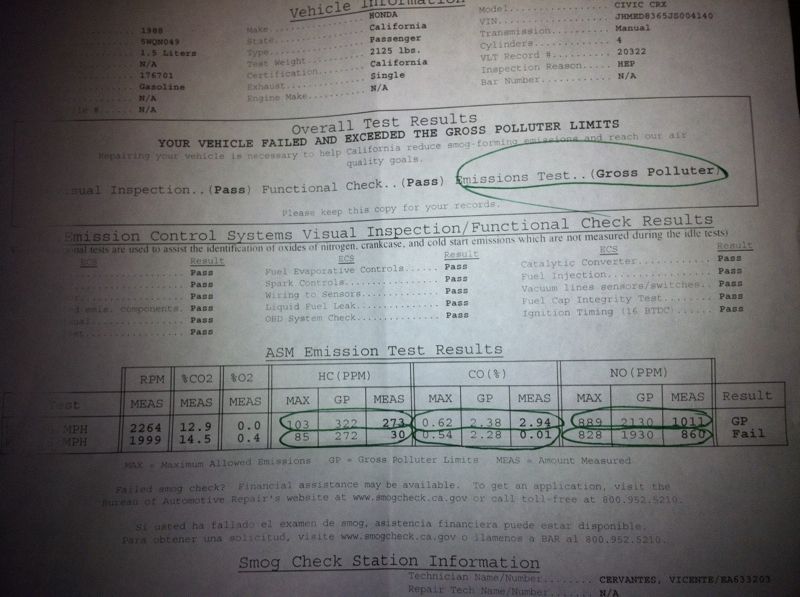 Sorry for the low quality image, had to take it with my phone. I'll go over the details In case u can't see the image.
the in 15 MPH the RPMS were 2264 (Don't know what gear the technician had it, if he had it in FIRST gear SHOULD THE HF be tested in 2nd GEAR because of the special gearing?)
15 MPH ----HC (PPM) MEASURED 273 MAX ALLOWABLE IS 103----- CO% WAS AT 2.94 MAX ALLOWED IS 0.62. ---NOx (PPM) WAS 1011 MAX ALLOWED IS 889.
Now at 25 MPH the RPM was at 1999 (can any one calculate which gear the was in?)
25 MPH----HC (ppm) MEASURED 30 MAX ALLOWABLE IS 85 (IT'S GOOD THERE) --CO% MEASURED 0.01 MAX ALLOWED 0.54.(IT'S GOOD THERE TOO)--NOX MEASURED 860 MAX ALLOWED IS 828 (FAILED BY 32 PPM)
THE TIMING WAS SET AT 16 btc.
Ok now the challenge is on the state of california lowered the maximum allowable emissions this year because if you fail you can buy a 2 month moving permit for $50 that's right it's extortion so F#*+ them.
I now a bit about the emission systems, the NO is lowered by the EGR valve by shoting exhaust gases back in the combustion chamber to lower the temps. I tested the actuation of the egr with a vacuum pump and noticed it would activate initially but as the RPMs went up the vacuum to egr would stop all together I figured the ECM would throw on the Check engine light if it wasn't supposed to do that. So......?
I also Have a "test" pipe (empty HF catalytic converter) I'm tempted to put it on and get a PRE TEST to determine the Catalytic efficiency of the Catalytic Converter it has now, which I took a look at and all the honey comb material in there looked good.
So my concerns are the EGR Actuation.
The gear the tech chose to do the test.
The fact that it's pretty hot is SOCAL right now.
and If I buy a NEW CATALYTIC converter and it still fails.
I'm in Los Angeles If any one cares to help me out!