Hey Guys,
So I had a post about a week back about the CRX overheating. Well, I thought I got it fixed when I replaced the relay, as the first one was broken. Well that did not take care of my problem. I've started looking into the wiring diagrams, and I think I've come on to something but I wanna see if someone can confirm my thoughts... I had an air conditioning system in the car when I originally bought it, but it did not work and I tore it out after spending $400 trying to get someone to look at it. I pulled everything including the wiring harness. I'm wondering if this affected my cooling fan system, because now my cooling fan does not turn on... I've played with my multimeter, confirmed the relay works, motor works. Now I'm down to the five wires at the fan relay... Below are two diagrams for wiring with AC and without AC.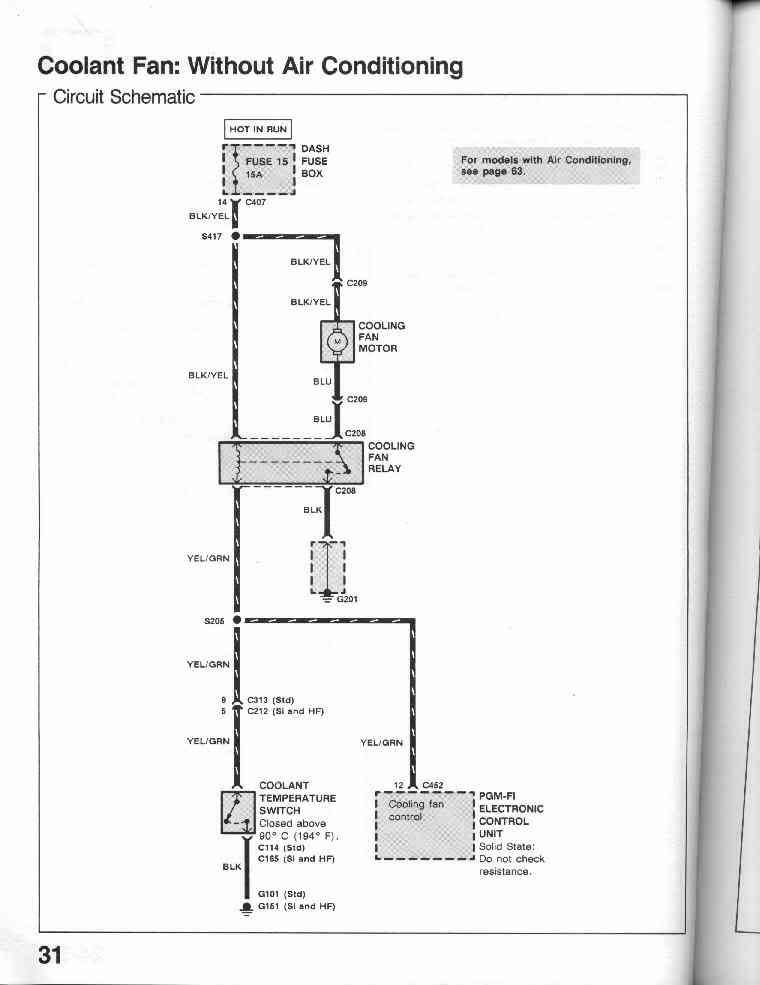 This diagram represents the CRX cooling fan system. We'll call it diagram number one.
This is a basic Honda cooling fan diagram. We'll call this one diagram number two.
Now to complicate things more, I did a [crummy] wire tuck last summer, which I will be pulling apart and investigating over Christmas break to try and fix this. So I've basically narrowed it down to my handiwork (or not so handiwork) and would like to figure out if it was something AC related that is causing my cooling fan not to turn on. On graph number two you can see that the ac system ties into the cooling fan system, just as the relay coil is about to ground through the coolant temperature switch with a BLU (blue) wire. It appears to just go to ground though, so not having that there would not cause any problems, right?
Now, to the next part. When looking at the back side of the male plug to the cooling fan relay, I see five wires. Two go to the same pin and are yellow with a green stripe, so one comes from the coolant temperature switch, but where is the other one going? If you look at diagram number one you see one coming from the pgmfi control unit, is that it?
Okay, final question, if I cannot igure out what the hell I have done, can I remove all this mess and just wire a single run from the fuse no. 15 to the collinfan, with the ground at the collant temperature switch, as shown for non-ac models in diagram number one all the way to the right? If so, then I need to know where the two BLK/YEL wires split off after the no. 15 fuse so that I can delete the one running to the relay. On diagram number one, it appears to be a point S437. I've circled the point I'm talking about here: