I noticed my driver's side rear trailing arm (RTA) bushing was looking quite worn and since I only use this car for auto-X I figured it would be a good idea to swap them out. Not only should this be done for auto-X purposes but is also important for daily drivers as well. Just thought I would share what steps are involved in doing this. This thread on Honda-tech was also helpful in guiding me through this but I thought why not have one for the CRX Community. If the mods see fit as to make this a How To I would be honored.
http://www.honda-tech.com/showthread.php?t=1589298
*I must state that I am not responsible for damage or injury sustained from following these steps. This is purely for reference and information

Rear trailing arm (RTA) bushings. These are important because it is what your rear suspension pivots on.
Lets face it, our CRXs are 20+ years old and things wear out. These parts are available still from Honda. Other aftermarket alternatives are also available such as Energy suspension and Mugen but I do not have any experience with either and cannot make a legit quote that one is better than the other although I have heard from others that the energy suspension ones bind and limit full movement.
I will also add that these should probably be replaced in pairs because if one side is worn chances are the other is too.
Tools needed
Jack
3/8 ratchet, a long handle one or breaker bar will make it easier
Extension
Sockets 14mm 17mm
14mm wrench
bold marker and ruler
Bushings part# 52385-S21-003 (thanks Matt Miner) $26.68/each from hondaautomotiveparts.com (Majestic Honda)
Honda/Acura bushing removal tool
Can be bought here or if you google around it can be found cheaper.
I got mine on ebay for $117 with $10 shipping
http://www.denlorstools.com/home/dt1/pa ... p_651.html
This tool can also be used for 90-93 Acura Integra trailing arms as it comes with an adapter.
for those of you with upgraded rear brakes
First things first. Jack up your car and remove the wheels
]*It is recommended to loosen ALL the bolts first and then remove them
There are several bolts that will need to be removed. Where the upper control arm meets the trailing arm. 14mm
This one was stubborn for me and that's where a breaker bar would've come in handy.
I used my foot for extra leverage but be careful cause if you slip you could scrape your leg. And yes I work on my car in pajama pants.
The next bolt is the one that meets the arm to the frame. You can do this 2 ways, either remove the bolt from the frame of the bolt that holds the arm to the trailing arm
The two 17mm trailing arm bolts that go through the actual bushing mounts are located underneath just about where the rear jack point is
Now that everything is loose remove the bolts and let the trailing arm hang
At this point you should make a reference mark as to how the bushing is seated into the arm.
There is a small dot that I am pointing to. Draw a line on the arm with you bold marker so u will know exactly where to place the new bushing.
Next mark the depth of the bushing with your ruler.
I used a paint mixer. You want to be fairly accurate with this measurement.
When the bushing removal tool is attached it needs to be with the arrow facing up
Now to get that crappy bushing out.
Align your tool onto the arm placing the cup onto the bushing and tighten the screw until it is snug.
Do not push it out yet
The cable that comes supplied should be threaded through the back side of the bushing and clipped as pictured. This for when the bushing pops out it does not fly across the floor damaging you dog,cat,wife,car or YOURSELF!
Now place a 14mm socket on the shaft and ratchet away. Again a breaker bar would be helpful here but I used a wrench to cheat.
After a good workout the bushing will finally POP out. Here's where you'll see way that cable was so important
As you can see mine was SHREDDED. One side was completely broken
EXTRACTION COMPLETE
INSTALLATION
The new OEM bushings have a small LWR marking on them.
Make sure this is DOWN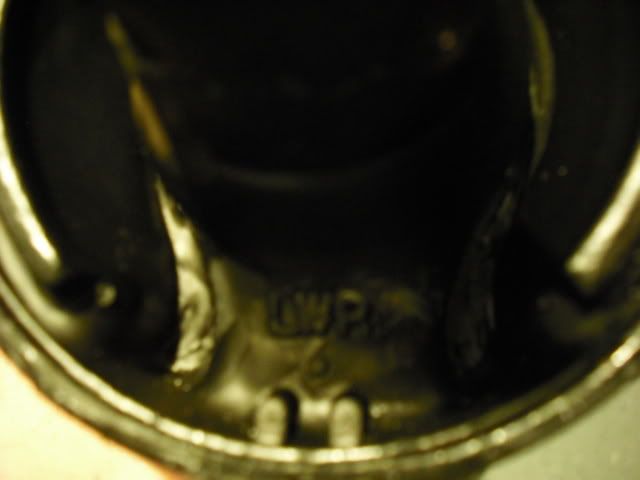 Push the bushing snugly into the trailing arm aligning it with the mark made earlier.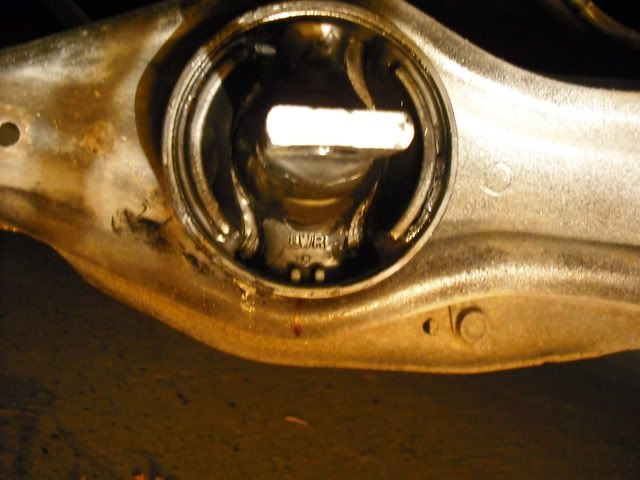 Place the tool back on and ratchet pushing the bushing inward. Ratchet a few times and check depth. It doesn't take a whole lot but if you go past your mark you will have to continue until you push it out again and then start over.
Now that everything is aligned remove the tool and replace all the bolts you removed. A jack is recommended to help lift and hold the trailing arm in place while replacing the bolts. Put you wheel back on and then do the other side.
After that it would be wise to get an alignment
Enjoy your new OEM fresh bushings